Residency Match Resources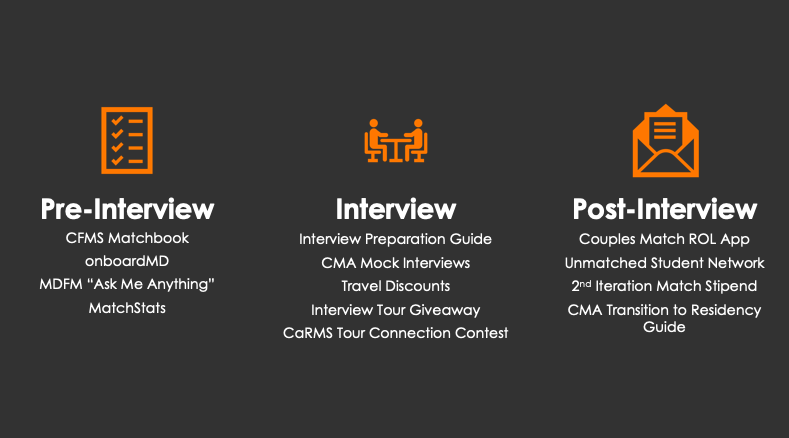 This page is intended to be a guide to help students preparing for or undergoing through the residency match process. The resources listed below are meant to help guide students to the relevant supports that are available to them for each phase of the residency application process – pre-interview, interview, and post-interview. If at any time you have any questions, please feel free to contact the Director of Education at [email protected] or Director of Student Affairs at [email protected].
Pre-Interview
CFMS Matchbook: Annual publication designed to educate medical students about the Match and assist with career planning. Outlines major deadlines, details steps involved and provides advice/tips.
onboardMD: Online platform that provides resources, information, tips and overall support for medical students from first year up to final year.
MDFM "Ask Me Anything…": Interview series hosted by MD Financial Management with current residents who recently participated in the residency match process that help answer common questions/concerns and provide tips/advice for students entering the match process.
MatchStats: Resource created by UofT MedSoc in collaboration with CFMS meant to aid medical students in interpreting the electives and match statistics.
Carms Interview Experiences data: Access 10 years of data regarding interview attendance, costs and schedules.
CMA Mock Interviews: Mock interview sessions organized by the CMA where current residents help prepare medical students for interviews by simulating interview scenarios and providing feedback.
Interview Preparation Guide: Online resources for interview tips/strategies such as practice interview questions, what to expect at interviews and how to pose questions at end of interview.
Travel Discounts: Discounts offered for major airlines (Air Canada, WestJet & Porter). Discounts also available through external organizations, such as the CMA.
Interview Tour Giveaway: Contest giveaway that will run weekly during the interview period, all students participating in the CaRMS process will be eligible to participate and win cash prizes.
CaRMS Tour Connection Contest: Social media challenge to encourage medical students to connect with one another while travelling during the residency interviewing period. Tag #CaRMSTourConnection to be selected for daily prizes.
Post-Interview
*Scotiabank, MD Financial Management and the Canadian Medical Association are proud to support this initiative, as part of their 10-year, $115 million commitment to supporting physicians and the communities they serve across Canada.