Nutrition Wellness
Nutrition Wellness 2020
If you want to consult 2019's version, please click here here.
If you want to consult 2018's version, please click here here.
Fostering a healthy relationship with food
Audrey Le, McGill University
---
One of the first thoughts that usually come to mind when we think about food, is that it's necessary for survival. However, food actually takes on a much bigger role in our lives than we sometimes realize. For many, food can be like an old friend whom you can turn to for comfort after a difficult day at the hospital. At the same time, food can seem like an enemy, bringing on feelings of self-hatred and of failure when we "cheat" on our diets. So, this begs us to ask ourselves an important question: what is considered a healthy relationship with food and how do we try to foster this kind of relationship?
1. Flexibility
One of the central principles of a healthy relationship with food is the notion of flexibility. Flexibility or "relaxed eating" suggests that we practice balanced eating habits. It means to listen attentively to our bodies and to feed them in a way that makes us feel good. It means being able to eat the foods that we enjoy without feeling guilt or remorse. However, it also doesn't mean that we should indulge ourselves with only junk food and completely disregard the nutritional benefits that other foods may have to offer. Flexible eating means being able to eat in a way that both energizes us and feels good, without completely depriving ourselves of foods that we enjoy.
2. Food does not have morality
We often think of certain foods as being either good or evil. For example, many people probably think of carrots as being inherently "good" and ice cream as being inherently "bad". We sometimes forget that food itself does not have any sense of morality, but that different foods do have different roles within our nutrition. Although ice cream may not be as nutritious as carrots, it can bring us a sense satisfaction and feelings of happiness. We do not need to completely eliminate it from our diet and should feel free to enjoy it, as long as we are aware of the limited role that it has within our nutrition.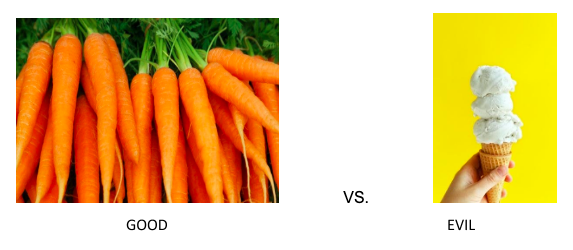 3. Debunking the myth of satisfying ≠ nutritious
A common misconception is that nutritious foods cannot be satisfying and vice versa. If eating a well- balanced diet means to be eating a little bit from each food group, then it should be easy to make it enjoyable. There are so many different choices available within each food group, that it ultimately comes down to choosing what YOU enjoy eating the most. There are also many different ways to prepare the same ingredients to make them more enjoyable. The way that a vegetable is prepared can completely change its texture and taste. What's important is to stay open-minded and experiment with different ways that you can make eating well, more enjoyable for yourself.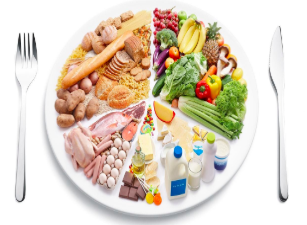 Eating without distractions
One last tip that perhaps isn't as evident, is to remember to cherish the time that you get to spend eating. With our busy schedules as medical students, it becomes easy to mindlessly eat our food on the side while we finish up some work or watch TV. As tempting as it is, it's worth reflecting upon how this impacts your ability to truly enjoy your food. Notice how much more enjoyable it is when you eat with friends or with family? It may be a good idea to try and reserve time to eat without distractions, even if it is only for 10 minutes.
Some helpful links if you'd like to read more:
https://www.huffingtonpost.ca/entry/healthy-relationship-to-food-habits_n_5107037 https://www.nationaleatingdisorders.org/blog/how-have-healthy-relationship-food https://www.thecenterformindfuleating.org/
Intermittent Fasting
Randi Mao, McMaster University
---
Intermittent fasting (IF) is all the rage these days – celebrities are doing it, athletes are doing it, heck, even many of our preceptors are doing it! In fact, it was the "trendiest" weight loss search term in 2019. So, without further ado, let's dive into everything IF!
1. So, what the heck is IF?
IF is a meal eating pattern that cycles between periods of eating or fasting. IF is not so much a conventional diet in the sense of determining what type of foods you are ingesting, but rather specifying when to eat them.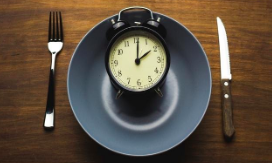 The body usually exists in two states – the fed (high insulin) state and the fasting (low insulin) state. IF causes the body to go into the fasting state, which decreases insulin and leads to glycogenolysis and lipolysis. These metabolic processes can contribute to the weight loss and other health benefits 202observed in IF. Click here to read more on everything IF: https://www.dietdoctor.com/intermittent-fasting
Why is IF so great?
There has been increasing evidence that IF can lead to numerous health benefits. Recently, a pilot study conducted among metabolic syndrome patients showed that IF promoted weight loss and better metabolic health. Read more about it here: https://www.cell.com/cell-metabolism/fulltext/S1550-4131(19)30611-4. Furthermore, the New England Journal of Medicine published a review article about the benefits of IF: https://www.nejm.org/doi/full/10.1056/NEJMra1905136?query=featured_home. Research evidence has shown that IF has great promise and current literature is working to catch up to clinical and anecdotal experiences.
Here are some of the reported benefits of IF:
Molecular effects:
Improved insulin sensitivity and drops in insulin levels
Increased HGH release that lead to weight loss and muscle gain
Expression of antioxidant defenses
DNA repair
Increased release of norepinephrine
Increase in metabolic rate
Downregulation of inflammation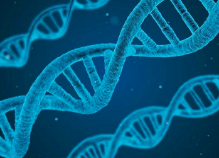 Health benefits:
Weight loss
Increased fat burning
Reduced insulin resistance
Reduced blood sugar levels
Possible reversal of type 2 diabetes
Possible better heart health with reduction in LDLs
Possible better brain health and improved mental clarity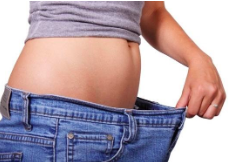 3. What are some possible side effects?
Hunger
Constipation
Headaches
Dizziness
Heartburn
Muscle cramps
4. Who should avoid IF?
IF should not be undertaken under these conditions:
Pregnancy
Breastfeeding
Age < 18 years
Underweight (BMI < 18.5)
History of eating disorders
History of amenorrhea
IF can be undertaken, but requires medical supervision in these conditions:
If you have any acute or chronic medical conditions (e.g., kidney disease, or heart disease)
If you have gout or hyperuricemia
If you have type 1 or type 2 diabetes
If you take certain prescription medications
Click here to read more: https://www.healthline.com/nutrition/intermittent-fasting-guide#who-should-not
Recipe and Shopping Apps
Karine Gou, McGill University
---
Tasty
Most people scrolling through their social media feeds may recall stumbling upon one of Tasty's recipe videos, which instantly pop to the eye with their colorful and esthetically pleasing instructional clips. Tasty is a recipe app made by BuzzFeed that is simplistic and fun.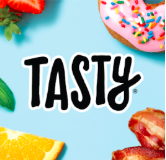 Android (Editor's Choice!): https://play.google.com/store/apps/details?id=com.buzzfeed.tasty&hl=en IOS: https://apps.apple.com/ca/app/tasty/id1217456898
Once downloaded, you can easily browse through recipes either on the front page where you'll see the trending or most popular recipes or find them through the search bar. Your search results can be filtered according to the level of difficulty, meal, occasion, cuisine, dish style and diet. Once a recipe is selected, a short and easy-to-follow video always precedes the written instructions. The video can also be broken down into even clearer step-by-step snippets as you go through the instructions. Once a recipe catches your eye, you can save it under "My Recipes", where your saves will be automatically organized and classified for you in such a way that they are always easy to find and go back to. The recipes are also easy to share online or to print if you want to share your love. Overall, this app is perfect for cooks of all levels looking for time-efficient ways to diversify their cooking.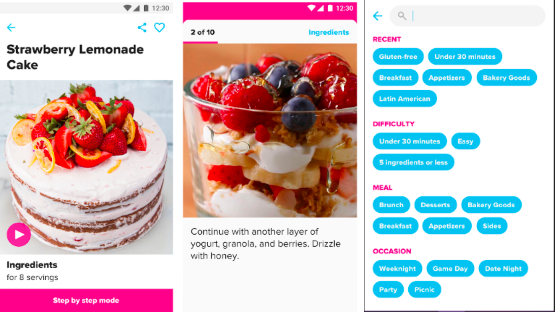 Yummly Recipes & Shopping List
Yummly is one of the recipe apps out there with many neat and advanced features. Like most recipe apps, once downloaded, you can customize the recipes to your tastes and preferences.
Download it here: Android (Editor's Choice as well!): https://play.google.com/store/apps/details?id=com.yummly.android&hl=en IOS: https://apps.apple.com/us/app/yummly-recipes-recipe-box/id589625334
From there onwards, the app will automatically present weekly new recipes tailored to your tastes in the "Just for You" tab. You can also search for more recipes through their "Explore" tab: the search can be filtered by what's most popular or trending, by techniques used, cuisines, diets (most reviewers are raving about their diet-friendly wide catalogue!), cooking time and recipe format (for instance, looking for recipes with step-by-step broken down videos). The app allows you to save the recipes you like, and to classify them with customizable folders. Yummly mainly distinguishes itself by being so much more than a simple recipes catalog: its features make you feel accompanied everywhere from the kitchen to the grocery store by allowing you to draft a grocery list according to the recipes you have planned to try. It also allows you to schedule your mealtimes such that they send you reminders when to start cooking. Furthermore, there is even the option of connecting the app to certain selected smart cooking appliances, allowing you to tweak and adjust the time, temperature and settings from your device! All in all, Yummly is an app made for cooks looking for a wider range of options and for new tech-friendly features!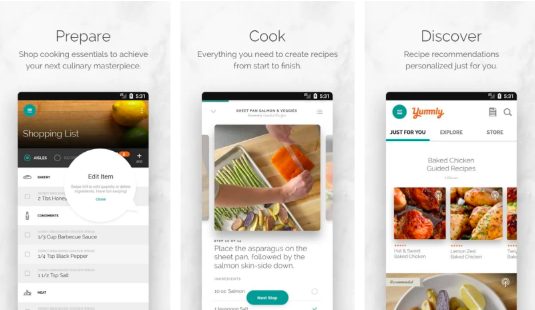 Recipes & Resources for Alternative Diets
Portia Tang, Queen's University
---
There are some great websites listed under the CFMS Nutrition page that are resources for all kinds of diets – vegetarian, vegan, gluten-free and more. Here, we've linked some recipes from these websites and others for you to try.
Healthy Pumpkin Muffins from Cookie and Kate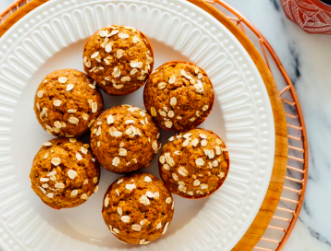 Image from: https://cookieandkate.com/healthy-maple-pumpkin-muffins/
These easy pumpkin muffins are freezer friendly and super-customizable. Cookie + kate is a great site for vegetarian recipes that can be adapted to accommodate dairy free, nut free or gluten free diets. This particular recipe highlights their comprehensive approach, with many recommendations on for vegan, low-fat, dairy free or gluten free substitutes.
5-ingredient Sweet Potato Black Bean Chili – Minimalist Baker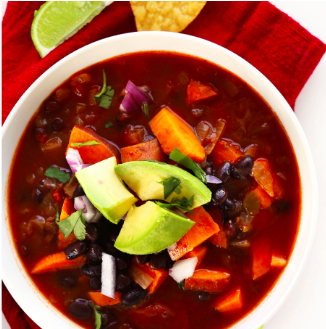 Image from: https://minimalistbaker.com/5-ingredient-sweet-potato-black-bean-chili/
This vegan chili is perfect for cold winter months and can be made in a large batch and used for meal prep. Minimalist Baker is the go-to place for simple vegetarian or vegan recipes that either use less than 10 ingredients or take less than 30 minutes to prepare. They also have plenty of special diet recipes that range from gluten free to no-bake.
Green Pizza with a Cauliflower Base – Green Kitchen Stories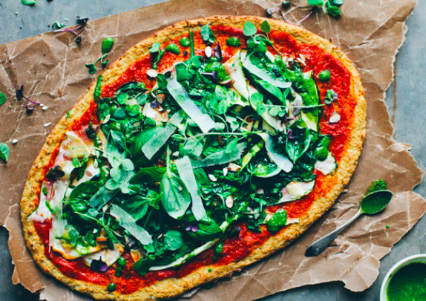 Image from: https://greenkitchenstories.com/green-pizza-with-a-cauliflower-base/
Up your cooking game with this cauliflower pizza from Green Kitchen Stories. Their creative twists on traditional favourites require more time, ingredients and skill but you'll feel like a professional chef after mastering one of their vegetarian or vegan recipes.
Chocolate Protein Powder Shake – Minimalist Baker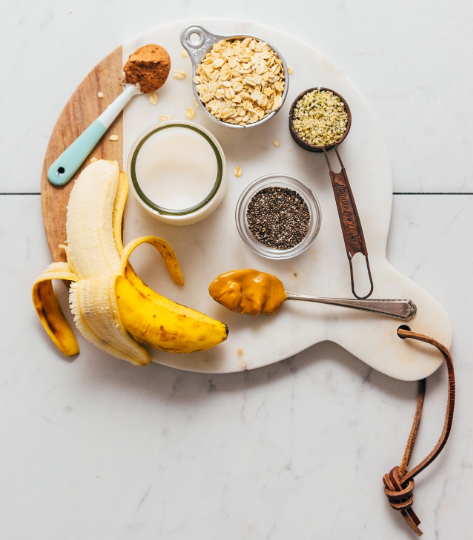 Image from: https://minimalistbaker.com/chocolate-protein-shake-protein-powder-free/
This delicious Chocolate Protein Powder Shake from Minimalist Baker uses only 7 ingredients and no protein powder. Whip up a batch and store it in your fridge for a quick to-go breakfast. We've featured other Minimalist Baker recipes before – their site features easy, vegetarian recipes that take max 10 ingredients, 30 minutes or 1 bowl.
Roasted Pumpkin Salad- Green Kitchen Stories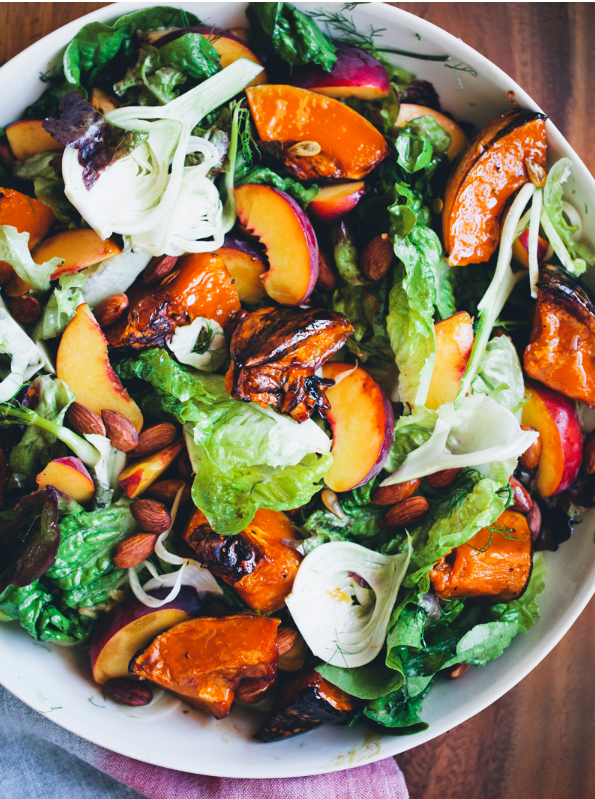 Image from: https://greenkitchenstories.com/roasted-pumpkin-peach-salad-sydney/
This roasted pumpkin salad is packed full of flavour and colours, with pumpkin, peach, lettuce, fennel and an easy dressing that can be put together in a pinch. Check out Green Kitchen Stories for creative vegetarian recipes that span a range of cuisines and flavours.
Lasagna- Cookie + Kate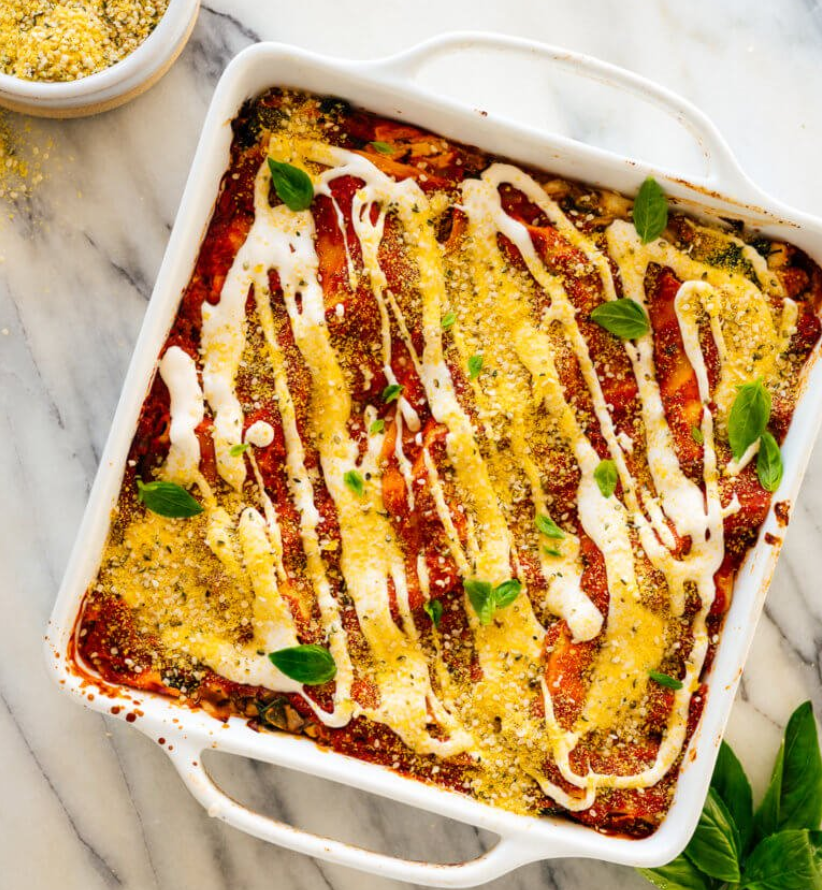 Image from: https://greenkitchenstories.com/green-pizza-with-a-cauliflower-base/
Try your hand at this lasagna from Cookie + Kate. Cashew-based sour cream and vegan parmesan are used instead of traditional mozzarella and ricotta. If you're looking for more vegan recipes, browse Cookie + Kate for a number of vegan recipes that have gluten-free substitutions and storage suggestions.