2020 CFMS National Wellness Challenge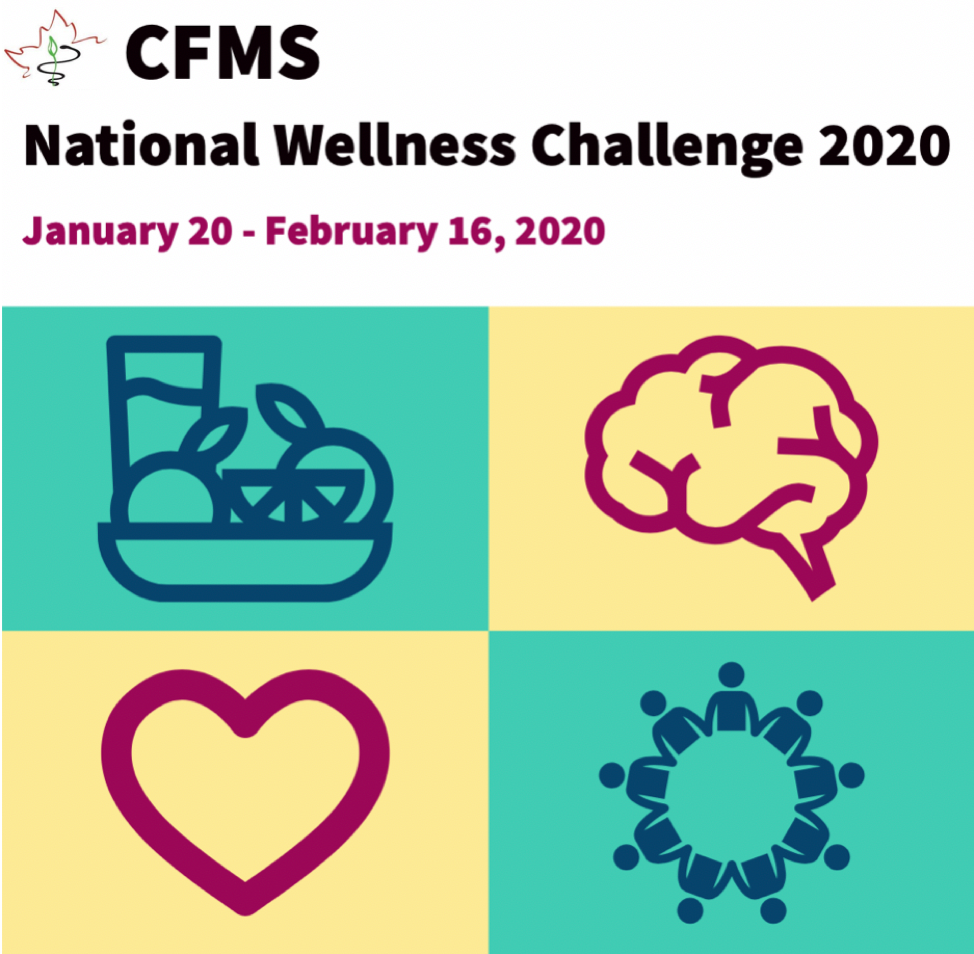 What is the National Wellness Challenge?
The National Wellness Challenge (NWC) is a month-long, nationwide event that seeks to promote wellness among Canadian medical students. It seeks to improve wellness through encouraging participants to try new health-supporting behaviours and build healthy habits. Additionally, the NWC aims to encourage open discussion of wellness and reduce the stigma surrounding wellness in the medical profession. The month will be divided into 4 aspects of wellness, one week being devoted to each: Social Wellness, Mental Wellness, Physical Wellness and Nutrition Wellness.
How does the challenge work?
Students can register for the National Wellness Challenge as an individual, or in a team of 3 - 5. Once you have decided how you would like to participate, please register as an individual (https://forms.gle/qGb5whyhuzxZc17v6) or as a team (https://forms.gle/GuX9YrBneWsbteQh6), and within three days, you will receive your personal progress sheet via email. The final day to register for the 2020 NWC is February 1st!
For each week, there will be a list of challenges that can be completed that will all be found on your progress sheet. There are no limits to the number of challenges that you can do. Ie you can complete 5 different challenges in one day, complete the same challenges for 5 days in a row, or mix and match. Wellness means different things to different people. For that reason, all submissions will be entered into the prize draw - regardless of the number of challenges completed. There will be a winner for the individual stream, and for the team stream every week! Prizes can be chosen from a list, and there will be three 100$ value prize for individuals, and one 300$ value prize for a team, each week. With each new weekly theme, there will be a new draw with new ballots.
Please take a look at the checklist below for specific instructions on how to use the progress sheet.
#WellnessWednesdays
In addition to the weekly checklists outlined above, this year, you can also win prizes by participating in #WellnessWednesdays. Each week of the NWC there will be a special national challenge on Wednesdays. Complete the challenge, and post a photo or story on Instagram (@CFMSFEMC) or a Tweet (@CFMSFEMC). Tag the CFMS and use the hashtag (#CFMSwellness2020). You may also complete the Wellness Wednesday submission form linked to the weekly Challenge Sheet to enter if you would prefer not to use social media. Those who submit will be entered into a draw. Two winners will be selected each week to receive a $100 prize! Submissions must be in by midnight local time on Wednesdays during the NWC.
School Participation Challenge:
In addition to individual and team prizes, this year there will be a prize available to the school that has the highest proportional participation! The winning school will receive $300 to use for a future Wellness Initiative! So be sure to invite your friends to participate in the 2020 NWC!
Why should I participate?
Participation benefits include: Improving your health! Engaging in discussion surrounding wellness in the medical profession! Being a part of a national attempt to increase medical student wellbeing! Winning one of the participation incentive prizes!
Instructions:
Make sure you have registered: As an INDIVIDUAL (https://forms.gle/qGb5whyhuzxZc17v6) OR as part of a TEAM of 3 - 5 (https://forms.gle/GuX9YrBneWsbteQh6). Once registered, you will receive your personal challenge sheet in the confirmation email. The final day to register for the 2020 NWC is February 1st!
Join your school's National Wellness Challenge Facebook page for more information and to receive updates from your local Wellness Representative. (links will be added as school Facebook groups are created)
You will find two other tabs at the bottom of this Excel document; "INDIVIDUAL CHALLENGE SHEET" and "TEAM CHALLENGE SHEET", pick the one you registered as and discard the other. This is your go-to for the whole month, where you will find all the challenges and be able to keep track of your progress.
Highlight the boxes of the challenges you complete each week to track your progress!
Submit your progress sheet every Sunday via the forms linked to the Challenge sheet before midnight local time for your chance to win an awesome prize!
More questions?
Ask your local Wellness Representative or visit your school's National Wellness Challenge Facebook page
Contact us CFMS at [email protected]