Greening Healthcare Initiative
1) Project Green Healthcare/Projet Vert la Santé
CFMS HEART is excited to announce the launch of our newest initiative, Project Green Healthcare/Projet Vert la Santé!
This is an exciting opportunity for Canadian medical students to team up and perform green quality improvement projects in their local hospital systems. Participation will include collaboration with local physician and non-physician mentors and up to $2 000 of funding! We are also offering a non-funded stream for those who are interested in being part of our network and potentially taking on their own project in the future.
Our applications are now closed. We will be releasing the details of our first cohort shortly!
We are also incredibly excited to announce our Primer on Greening Healthcare for Healthcare Students! In this document, you will find some background information on the environmental footprint of the Canadian and international healthcare systems, an extensive list of greening healthcare project ideas, and a summary of essential steps to complete these projects successfully. We hope that this toolkit will be useful students interested in reducing the environmental impact of their healthcare systems. We look forward to seeing how Canadian physicians-in-training draw inspiration from this primer for Project Green Healthcare and our upcoming Planetary Health Action Conference!
French version/version française: Primer du HEART de la FEMC sur l'écologisation des soins de la santé pour les étudiants en santé.
We look forward to building this national network with you and contributing to making a more environmentally sustainable future!
Contact us at: [email protected]
If you are a CAPE physician and are interested in participating in or learning more about this project, please fill in this google form.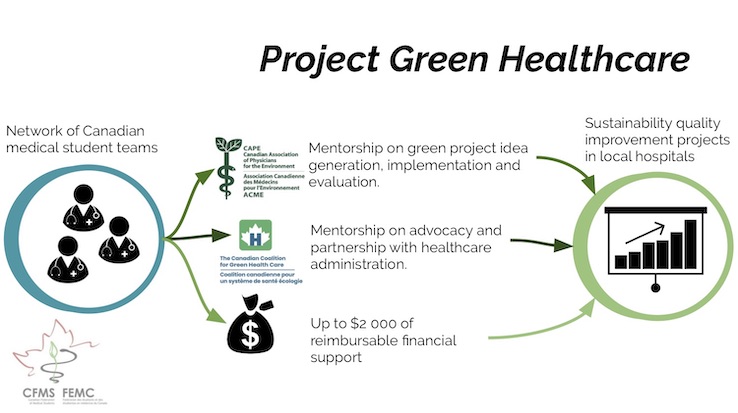 Please see the infographic below explaining the program structure and timeline: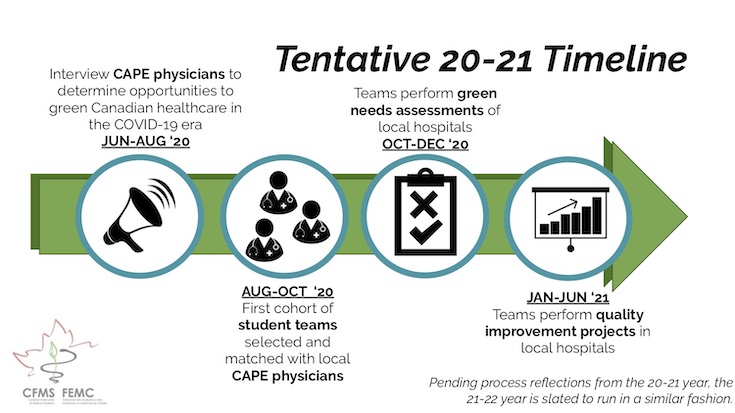 2) Choosing Greener
As a second initiative, we are planning to generate educational materials for medical students to inform green decision making in medical practise. We want to understand how physicians can make green choices in all specialties, settings (hospital, private office etc.) and domains of patient care (diagnosis, treatment, and procedures). We also want to understand the role of the interdisciplinary team in green decision making. This topic is an area of medical literature that is quite lacking currently, but one that is of great importance to future physicians given the impact of healthcare on climate change explained above.
To gather evidence for Choosing Greener, we want to interview Canadian physicians who will be able to provide examples of how they integrate green care into their practice. If you are a physician and are interested in speaking with us about this or any of our initiatives. please fill in this google form. Alternatively, feel free to email the project leads at [email protected] and [email protected].