Greening Healthcare Initiative
1) Project Green Healthcare/Projet Vert la Santé
Project Green Healthcare/Projet Vert la Santé (PGH/PVLS) is the first-of-its-kind national community of practice of medical student teams leading green change in the Canadian healthcare system. Founded in October 2020, selected teams receive funding and mentorship from physician and non-physician climate action leaders through the Canadian Association of Physicians for the Environment (CAPE) and the Canadian Coalition for Green Healthcare (CCGHC) to execute a needs assessment and quality improvement project to promote healthcare sustainability.
Projects can be in-hospital initiatives, community initiatives, or focus on medical education, so long as they contribute to the goal of net-zero healthcare in Canada. Our initiative is also an excellent opportunity to meet like-minded thinkers in the healthcare sustainability space; we host community of practice meetings at least three times a year with the entire PGH/PVLS cohort for you to learn from selected field experts and share project progress with other PGH/PVLS participants. Project Green Healthcare/Projet Vert la Santé is sponsored by the CFMS through the Strategic Innovation Fund. If you have any questions, please email us at [email protected]. We highly encourage any medical student team to email us to inform us of your interest in applying; we would be more than happy to provide feedback and support to your applications.
2) Primer on Greening Healthcare for Healthcare Students
To aid healthcare trainees in developing high-impact, evidence-based quality improvement projects, we are pleased to make available our Primer on Greening Healthcare for Healthcare Students! In this document, you will find some background information on the environmental footprint of the Canadian and international healthcare systems, an extensive list of healthcare sustainability project ideas that are most amenable to trainee leadership, and a summary of essential steps to complete these projects successfully. We hope that this toolkit will be useful to prospective PGH/PVLS student teams and other stakeholders interested in reducing the environmental impact of their healthcare systems.
French version/version française: Primer du HEART de la FEMC sur l'écologisation des soins de la santé pour les étudiants en santé.
Applications for the 2021-2022 PGH cohort are now closed. Applications for the 2022-2023 PGH/PVLS cohort will open in August 2022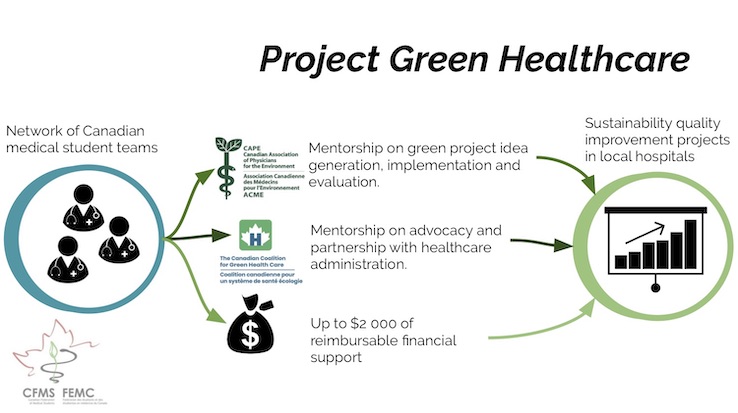 2021-2022 Student Cohort
Our 2021-2022 cohort of has now been working for the past 6 months! Please see below for the project descriptions of our 11 current teams spanning 9 medical schools across 7 Canadian provinces. Should you wish to contact any of these teams, please reach out to [email protected]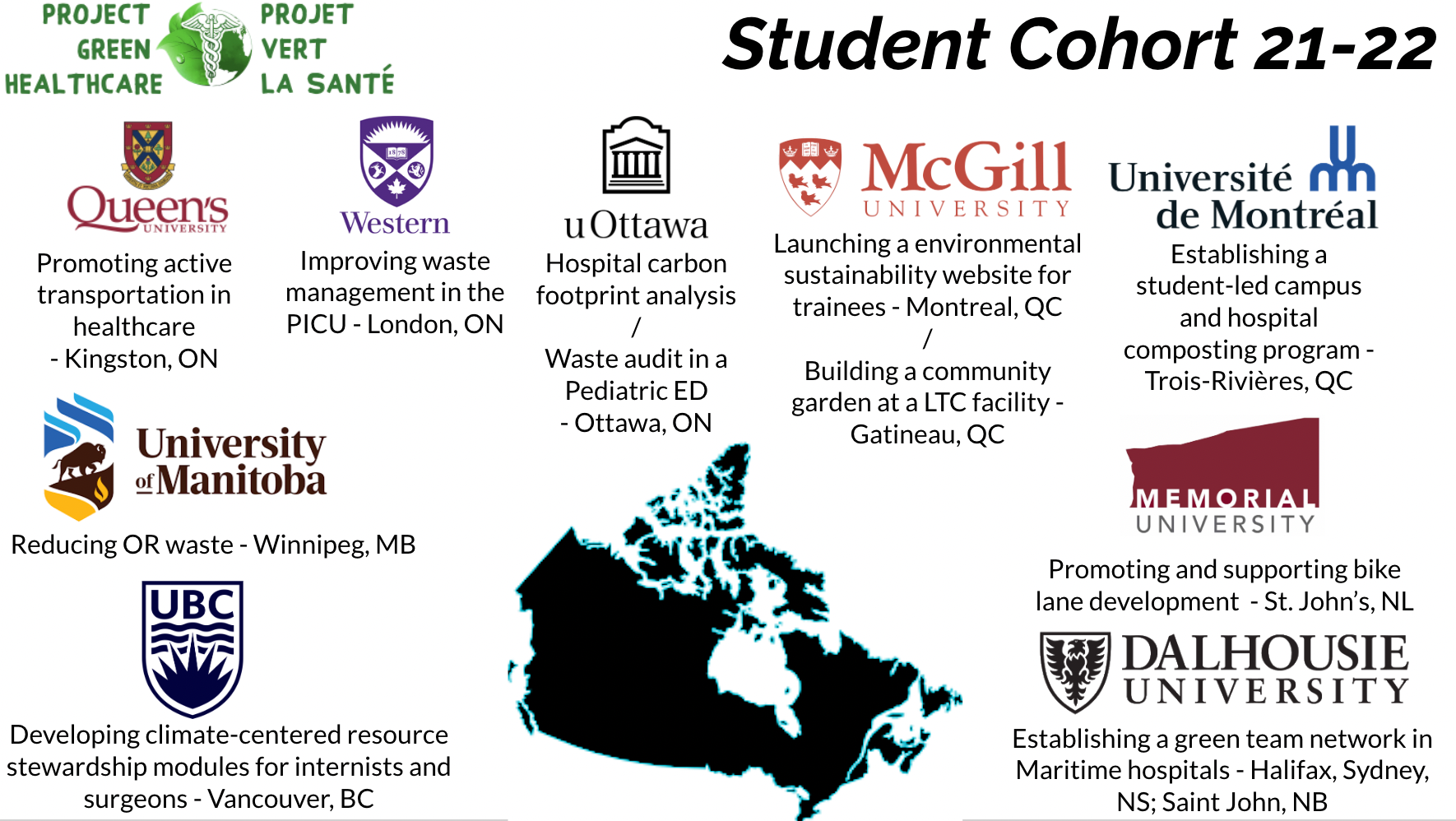 Dalhousie University - Halifax, Nova Scotia - Dal Med Green Team - Establishing a green team network in Maritime hospitals (www.dmss.ca/green-team.html)
"The Dalhousie Medicine Green Team was founded by Dalhousie University medical students with a shared interest in environmental health and sustainability. We designed this network with the intention of promoting green health care initiatives within our learning and working environments across our Maritime provinces. We hope to bridge connections between students, healthcare providers, and other stakeholders who are eager to participate in healthcare sustainability projects. Through interprofessional collaboration we hope to inspire change at all levels of health care both locally and regionally."
Memorial University - St. John's, Newfoundland - Mun Medicine Code Cycle Team - Promoting and supporting bike lane development
"We are MUN Medicine's Code Cycle team for PGH. Our team is working towards reducing Newfoundland's carbon footprint by promoting human-powered active transportation, such as biking and walking, among the healthcare sector in the City of St. John's."
McGill University - Montreal, Quebec - Inspire Sustainability - Launching an environmental sustainability website for healthcare trainees (www.inspire-sustainability.com/)
"Inspire Sustainability provides medical students with a centralized website containing: easy-to-use resources, educational modules, a database of climate action champions in clinical and research fields, and advocacy tools regarding planetary health."
McGill University - campus Gatineau - Gatineau, Québec - CHLSD Community Garden - Creation of a community garden in a long term care home
"EnviroSanté, the Outaouais Campus branch of the McGill Medical Students' Society (MSS) Sustainability Committee, implemented a community garden at a local long-term care home (CHSLD). Inspired by the hardships faced by CHSLD residents during the pandemic, along with the desire to create a foundation for sustainability initiatives, this project was created. Supported by Projet Vert la Santé, the community garden aims to mobilize students and healthcare professionals alike in greening practices."
Université de Montréal, campus Mauricie - Trois-Rivière, Québec - Compostage collectif du Comité MedVert - Implementation of a collective compost system
"The Trois-Rivière town does not offer municipal compost, so we decided to implement a collective compost system for medical students on campus since the latter is directly adjoined to the hospital and most students' housing. By partnering with a local compost firm and by enabling structured training on composting and compost use, we were able to implement a sustainable system. We hope to further expand the project with the hospital and community garden in the future."
University of Ottawa - Ottawa, Ontario - The Ottawa Hospital Green Team - Hospital carbon footprint analysis
"The healthcare sector is a large contributor of GHG emissions, exacerbating chronic health conditions. Our project quantifies the annual amount of GHG produced by TOH's General Hospital and makes recommendations to mitigate our output."
University of Ottawa - Ottawa, Ontario - Children's Hospital of Eastern Ontario Green Team - Waste audit in a Pediatric Emergency Department
"We are one of Project Green Healthcare's University of Ottawa teams. With Dr. Curtis Lavoie and help with Environmental Services, we're creating a new waste management strategy for CHEO's emergency department. We are using evidence-based strategies to implement new signage and recycling stations to reduce contamination, increase recycling and reduce waste. We expect to calculate how our strategy will reduce CHEO's contribution to greenhouse gases as well as make our strategy easy for other hospitals to implement when looking to reduce their carbon footprint!"
Queen's University - Kingston, Ontario - Queen's Medicine Environmental Advocacy in Medicine Interest Group - Promoting active transportation in healthcare
"The PGH Team at Queen's University has recently launched our first initiative, the Active Transportation Campaign. Our campaign involved the promotion of biking and walking to work for surrounding hospitals, including Kingston General Hospital, Hotel Dieu Hospital, and Providence Care Hospital. We have also created and disseminated infographics that explain the benefits of active transportation on health, the environment, and climate change."
Western University - London, Ontario - Western Green Team - Improving waste management in the PICU
"We are second year med students at Western working on a project streamlining waste management in a Pediatric Unit. By placing recycling bins and educational posters on the hospital floor, we hope to serve as a model for others to improve green habits."
University of Manitoba - Winnipeg, Manitoba - Manitoba Green Team - Reducing waste in the operating room
""Our team is made up of a group of medical students from the University of Manitoba who are dedicated to contributing to environmental sustainability. Our team's overall goal is to push for green changes at the Health Sciences Centre (HSC), the largest hospital in Winnipeg, and to contribute to the goal of net-zero healthcare. Our team is currently tackling multiple potential avenues for achieving these goals. So far, these include setting up PPE recycling bins, reprocessing single use medical equipment, recycling PVC plastics, educating staff on what things are recyclable, and reducing natural gas usage. We are currently discussing with various sustainability leads and attendings throughout the hospital to determine which of these are most feasible and how to best proceed with implementing these plans. We are also in communication with multiple companies that specialize in recycling medical supplies in order to establish the necessary industrial partnerships for rolling out our plans."
University of British Columbia - Vancouver, British Columbia - Planetary Healthcare Lab - Developing climate-centered resource stewardship modules for internists and surgeons
"Over ordering of medical investigations directly impacts the triple bottom line of healthcare systems: it increases costs, causes patient inconvenience and at times harm, and contributes to the considerable environmental footprint of hospitals. Our team hopes to create accessible, innovative, and evidence-based educational resources focusing on the environmental footprint of inappropriate testing. These resources will then be integrated into the curricula and provide standard training in the basics of the climate impacts of healthcare delivery and tailored content on appropriateness of care and stewardship. Using the expertise of our team members, we will be focusing on general surgery and internal medicine to start. While these resources will initially be introduced at UBC, we plan on creating material that can be disseminated to other medical schools in Canada and beyond."
2020-2021 Student Cohort
We are incredibly proud of our inaugural 2020-2021 PGH/PVLS cohort, which included over 50 medical students distributed across 6 medical schools in 5 Canadian provinces. Please see below for an infographic summarizing the projects developed by our 7 PGH/PVLS teams last year. Should you wish to contact any of these teams, please reach out to [email protected]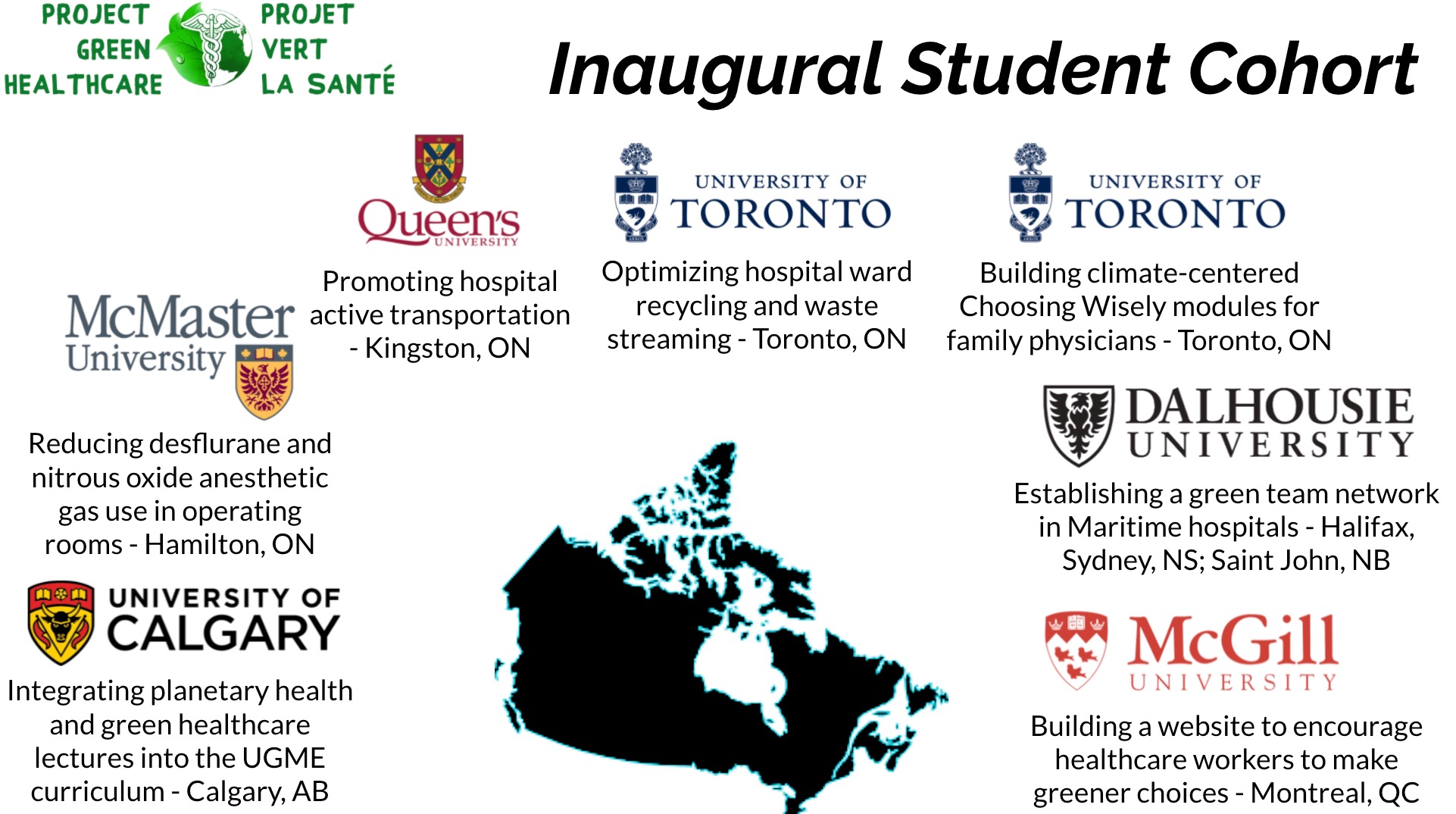 Publications
Our teams' initial progress has been featured in the CFMS 2021 annual review. Click this link to access our article, found on pages 12 and 13. Our work has also been featured in the Hospital News.
We have also provided guidance for meaningful healthcare trainee engagement to achieve net-zero in healthcare in The Lancet Planetary Health and the Journal of Climate Change and Health
Resources from PGH/PVLS Teams
1) McMaster University Greener Gases website: https://www.greenergases.ca/
- Details the environmental impacts of anesthesia and includes an open-access starter pack to building local campaigns to reduce the carbon footprint of anesthetic gases including an infographic, white paper, powerpoints, and anesthesia machine labels.
2) University of Toronto Choosing Wisely in Primary Care Module: See here for their module PDF
- An online module detailing the environmental co-benefits of implementing the Choosing Wisely Canada Primary Care guidelines to reduce unnecessary, low-value laboratory investigations, imaging, pathology and treatments.
3) University of Calgary X McGill University Climate Wise slides: https://www.cwslides.com/
- A set of open-access slides that summarize the health impacts of climate change and document evidence-based opportunities for healthcare professionals to engage in climate change adaptation and mitigation and promote planetary health.
4) McGill University Inspire Sustainability website: https://inspire-sustainability.com/
- A centralized website containing: easy-to-use healthcare sustainability resources, educational modules on healthcare sustainability, a database of climate action champions in clinical and research fields, and advocacy tools regarding planetary health.
5) Queen's Medicine Environmental Advocacy in Medicine Interest Group Active Transportation Infographics: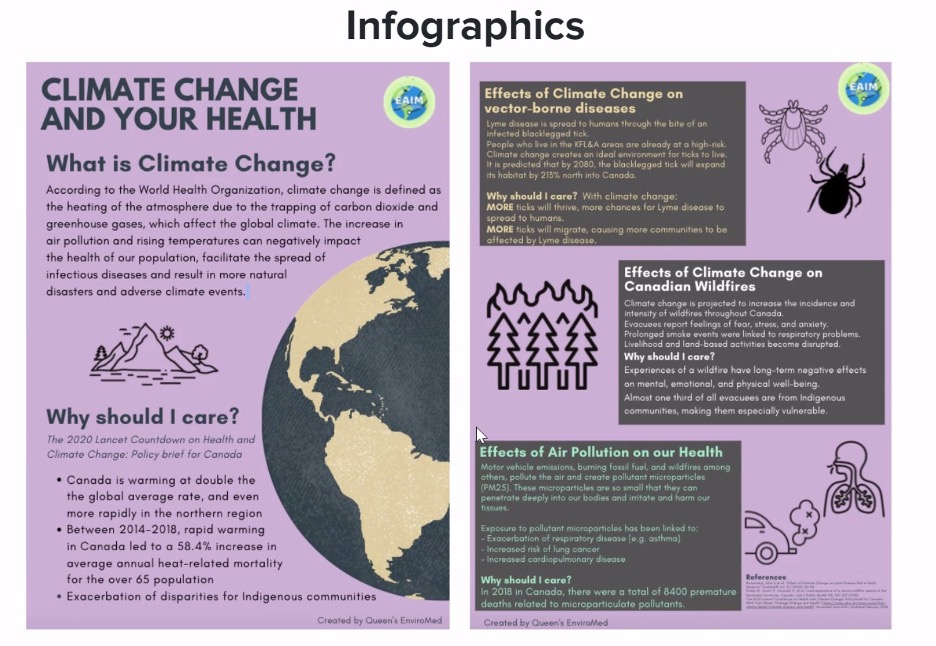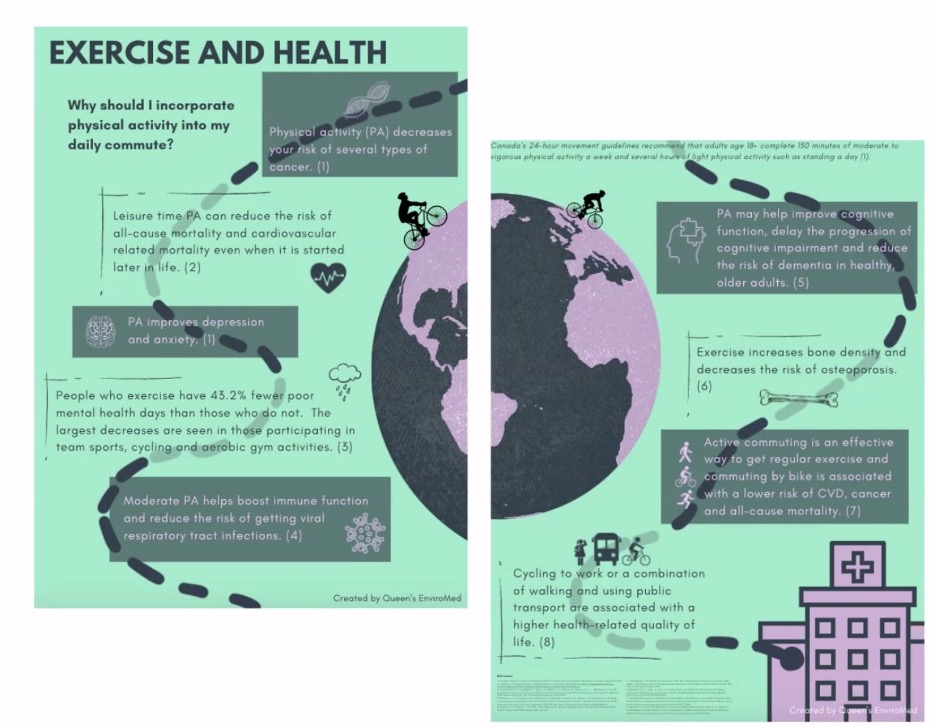 Contact
We look forward to building this national network with you and contributing to making a more environmentally sustainable future!
Please contact us at: [email protected]
If you are a CAPE physician or CCGHC health sector leader and are interested in participating in or learning more about this project, please fill in this google form.