Greening Healthcare Initiative
1) Project Green Healthcare/Projet Vert la Santé
Project Green Healthcare/Projet Vert la Santé (PGH/PVLS) is the first-of-its-kind national community of practice of medical student teams leading green change in the Canadian healthcare system. Selected teams will receive up to $2 000 in reimbursable funding and mentorship from physician and non-physician climate action leaders through the Canadian Association of Physicians for the Environment (CAPE) and the Canadian Coalition for Green Healthcare (CCGHC) to execute a needs assessment and quality improvement project to promote healthcare sustainability. Projects can be in-hospital initiatives, community initiatives, or focus on medical education, so long as they contribute to the goal of net-zero healthcare in Canada. Our initiative is also an excellent opportunity to meet like-minded thinkers in the green healthcare space; we host community of practice meetings at least three times a year with the entire PGH cohort for you to learn from selected field experts and share project progress with other PGH participants. Project Green Healthcare/Projet Vert la Santé is sponsored by the CFMS through the Strategic Innovation Fund. If you have any questions, please email us at [email protected]. We highly encourage any student team to email us to inform us of your interest in applying; we would be more than happy to provide feedback and support to your applications.
Applications for the 2021-2022 PGH cohort are now LIVE! Applications will be due by October 1, 2021. The program structure will be similar to this past year, as detailed below, with equal opportunity for funding (up to $2000 per team!). We look forward to reading your applications - It is never too early to start becoming a greening healthcare champion!
APPLICATION LINK: https://form.jotform.com/211464558037255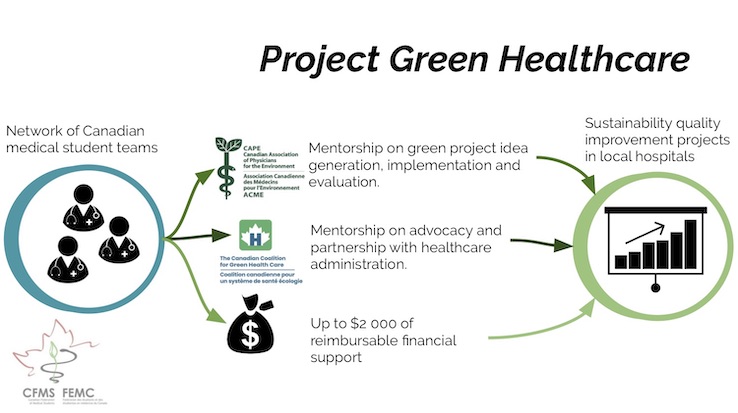 Our inaugural 2020-2021 cohort is now in session! Please see the figure below which describes our 9 current teams!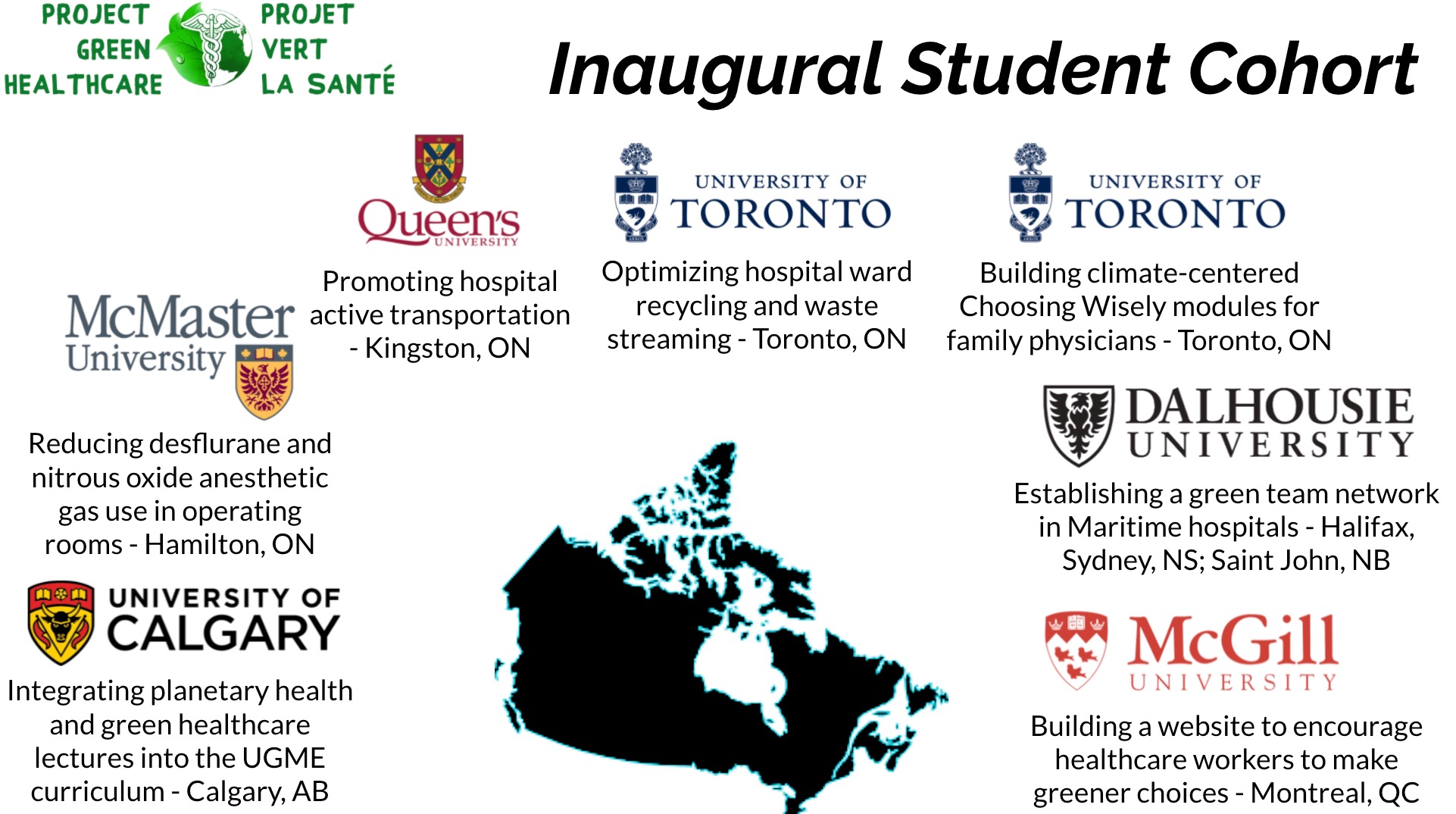 Our teams' initial progress has been featured in the CFMS 2021 annual review. Click this link to access our article, found on pages 12 and 13.
We have also provided guidance for meaningful healthcare trainee engagement to achieve net-zero in healthcare in The Lancet Planetary Health.
We look forward to building this national network with you and contributing to making a more environmentally sustainable future!
Please contact us at: projectgreenhealth[email protected]
If you are a CAPE physician or CCGHC health sector leader and are interested in participating in or learning more about this project, please fill in this google form.
2) Primer on Greening Healthcare
We are also incredibly excited to announce our Primer on Greening Healthcare for Healthcare Students! In this document, you will find some background information on the environmental footprint of the Canadian and international healthcare systems, an extensive list of greening healthcare project ideas, and a summary of essential steps to complete these projects successfully. We hope that this toolkit will be useful students interested in reducing the environmental impact of their healthcare systems. We look forward to seeing how Canadian physicians-in-training draw inspiration from this primer for Project Green Healthcare and our upcoming Planetary Health Action Conference!
French version/version française: Primer du HEART de la FEMC sur l'écologisation des soins de la santé pour les étudiants en santé.