Position Papers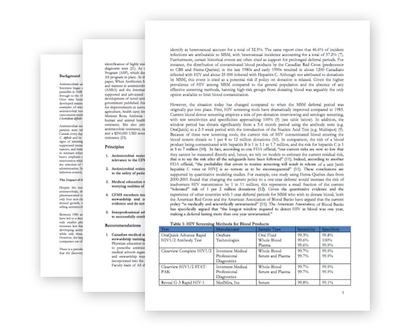 What are Position Papers and Policy Documents?
These documents are evidence-based resources that identify the Canadian medical student perspective for a variety of health systems issues. These documents guide our advocacy efforts.
PP

Position Papers: These are comprehensive documents that not only explore an issue of importance to the CFMS but outline an official stance of the CFMS membership and include organizational recommendations.

PS

Policy Statements: These are brief documents that highlight a position of CFMS membership toward an issue of importance but operate primarily through endorsement or rejection of a movement, organization or legislative material.

DP

Discussion Papers: These are comprehensive research documents that provide background information on a topic of interest and explore it, particularly from the medical student perspective. These papers are used primarily to serve as an education resource for said topic. They do not hold opinions and in fact, should explore all sides of a matter.
For more information, please see the Committee on Health Policy Terms of Reference.
How can I contribute?
Any CFMS member is welcome to submit a Policy Document or Position Statement for approval by the General Assembly.
First. Please review our Protocol for developing CFMS guiding documents (tools and guidelines for document development)​.
Second. Interested in writing something? Take a look at our existing documents in our advocacy tracker (updated March 29, 2019). Here you'll see documents that are passed, as well as documents that are currently in-progress. Contacts are available for in-progress papers, in case you want to reach out/get involved.
Third. Have an idea? Check out what the policy paper submission process looks like with this hip infographic, and gauge if this is something that would fuel your initiative.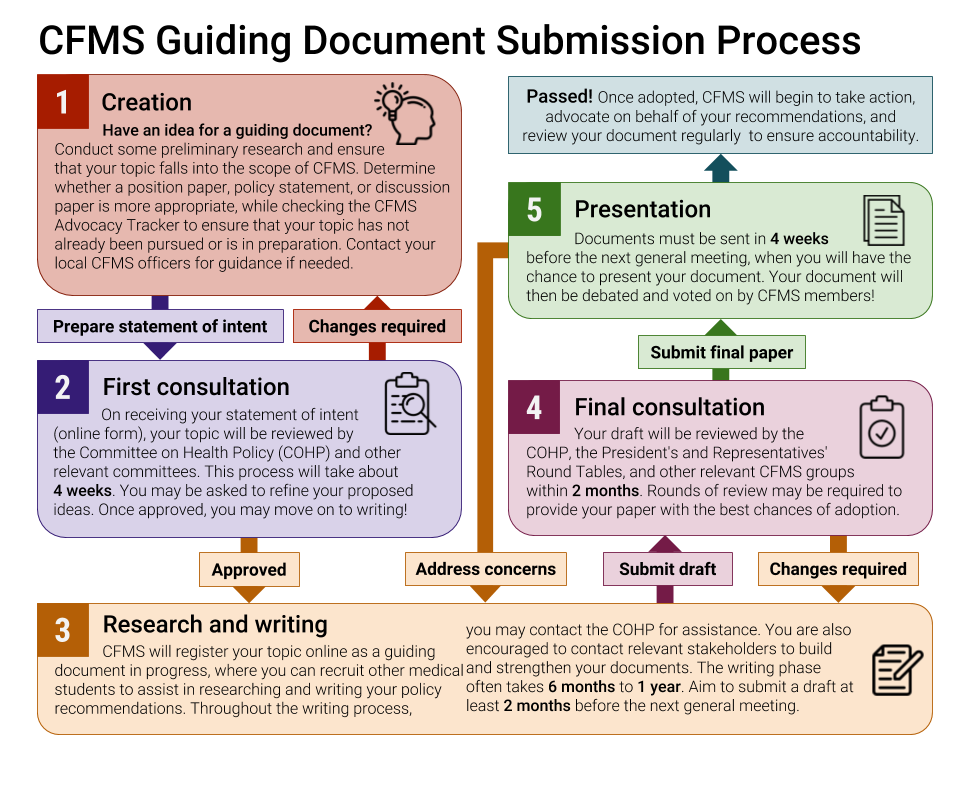 Fourth.Set on this path? Submit a Statement of Intent with your idea. Got a team? Collectively submit one form, and list names in the form. The Committee of Health Policy and National Officer of Health Policy will contact you in regards to your inquiry.
Fifth. Once we get back to you, feel free to refer back to this site for resources! Check our new templates for each paper here as well.
Archived Policy Documents and Position Papers

To view our archived policy documents and position papers, see Archived Policy Documents and Position Papers
Questions?

For more information please contact our National Officer of Health Policy, Takhliq Amir, at [email protected] or our Director of Government Affairs, Sehjal Bhargava, at [email protected]
All guiding documents are also accessible by the CFMS Advocacy Tracker.
Health Policy Committee
Takhliq Amir (National Officer of Health Policy)
Sehjal Bhargava (Director of Government Affairs)
Kathleen MacMillan (Director Govt Affairs Dyad)
Kaiwen Xia (Government Affairs Communications Coordinator)
Kelly Wei
Kate Uhlman
Daisy Deng
Grace Lin
Ivneet Garcha
David-Dan Nguyen
Bita Azad
Max Jiang
Robert Dydynsky
Nawazish Naqvi
Emre Islam
Saman Fouladirad
Jeeventh Kaur