Committee on Health Policy
The Committee on Health Policy (COHP) is the division of the Government Affairs portfolio that is primarily responsible for: 1) overseeing the review process of past CFMS guiding documents (position papers and policy statements) with an emphasis on identifying and tracking progress on actionable recommendations; and 2) advising and supporting the development of upcoming guiding documents. Through such tasks, the Committee aims to identify, advise on and address emerging policy priorities for the CFMS, while ensuring a commitment to issues of equity and advocacy in medicine and health policy.
For more information, please see the Committee on Health Policy Terms of Reference.
Descriptions of Guiding Documents: Position Papers & Policy Statements
Advocacy is an essential responsibility of the Canadian Federation of Medical Students (CFMS), which represents 8000+ students from fifteen medical schools across Canada. The CFMS advocates on behalf of these medical students to numerous stakeholders, including policy- and lawmakers, healthcare stakeholders, the general public, universities, and to medical students themselves, in order to influence the development of policies that affect both medical students and the overall health of Canadians.
There are two main types of guiding documents: position papers and policy statements. These documents are written by medical students, reviewed by CFMS committees, and both debated and voted on by CFMS members at general meetings. A third type of guiding document, discussion papers, are currently designated to be written by COHP members.
CFMS members are invited to submit guiding documents, which allow students to synthesize evidence and propose recommendations that aim to fill existing gaps related to pertinent issues ranging from medical education, global health, to political and health equity. Ultimately, these papers and statements provide a written foundation for the advocacy work of the CFMS. Please see the position papers database for past publications of position papers and policy statements.
Position Papers
Position papers are comprehensive documents that explore the current scope of an issue important to the CFMS, presenting an official stance, outlining existing gaps and proposing feasible and relevant recommendations as part of the follow-up strategy.
Link to guidelines and templates to be added soon.
Policy Statements
Policy statements are brief documents that represent the official stance of the CFMS on issues related to political or social movements, or organization and legislative material (i.e. government bills). These act as direct endorsements or rejections of official documents published by external organizations and institutions, and aim to provide support or alternative recommendations in response.
Link to guidelines and templates to be added soon.
Discussion Papers
Discussion papers are comprehensive research documents that present key contextual information on a health policy topic of interest, synthesizing different stakeholder perspectives and outlining future considerations and implications. These papers are meant to be used primarily for the purpose of evidence synthesis. They will not represent the official stance of the CFMS, but rather aim to explore pertinent health policy issues from various perspectives of the argument.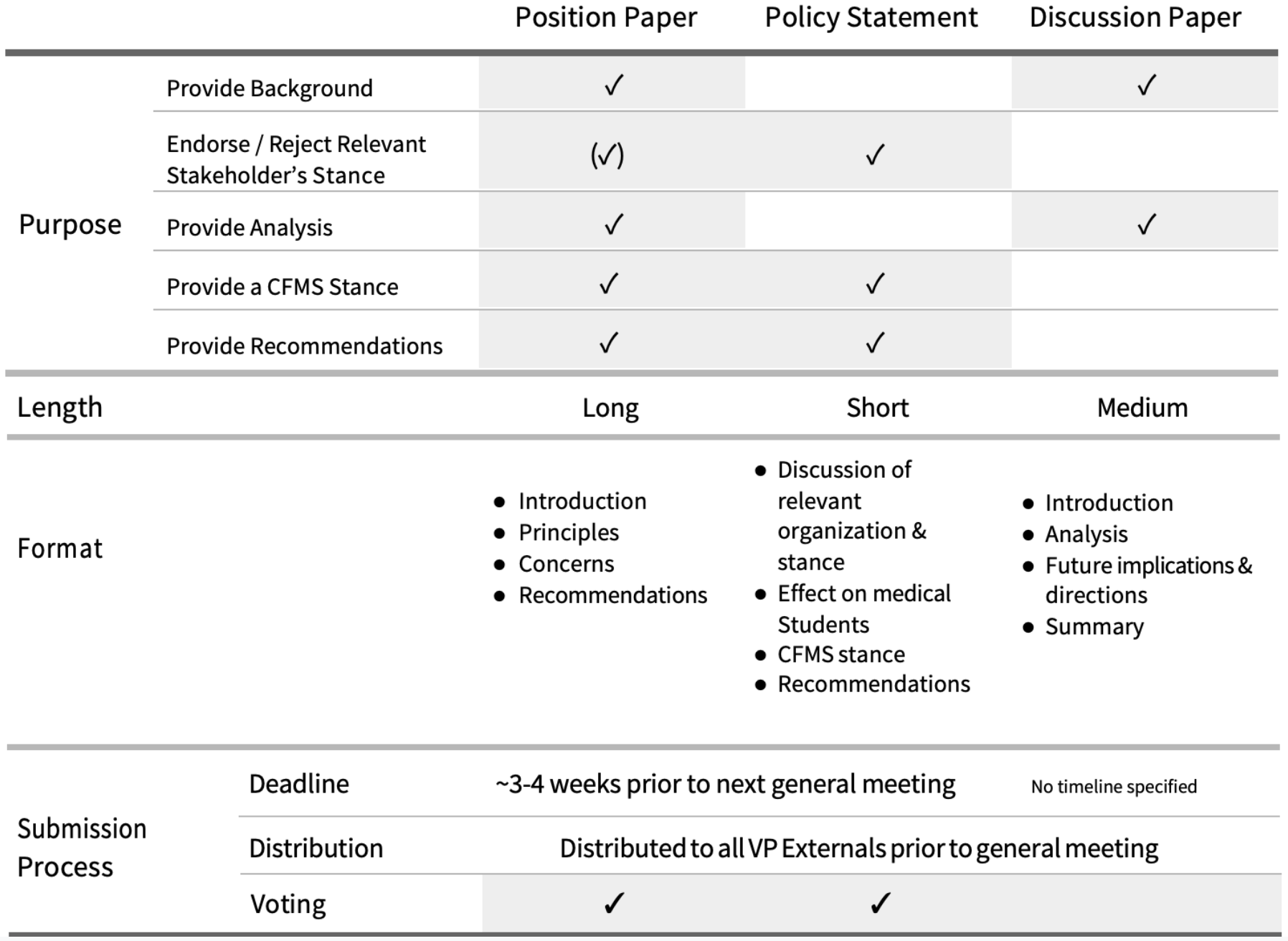 Figure 1. Comparison of the different types of guiding documents and their key distinguishing features.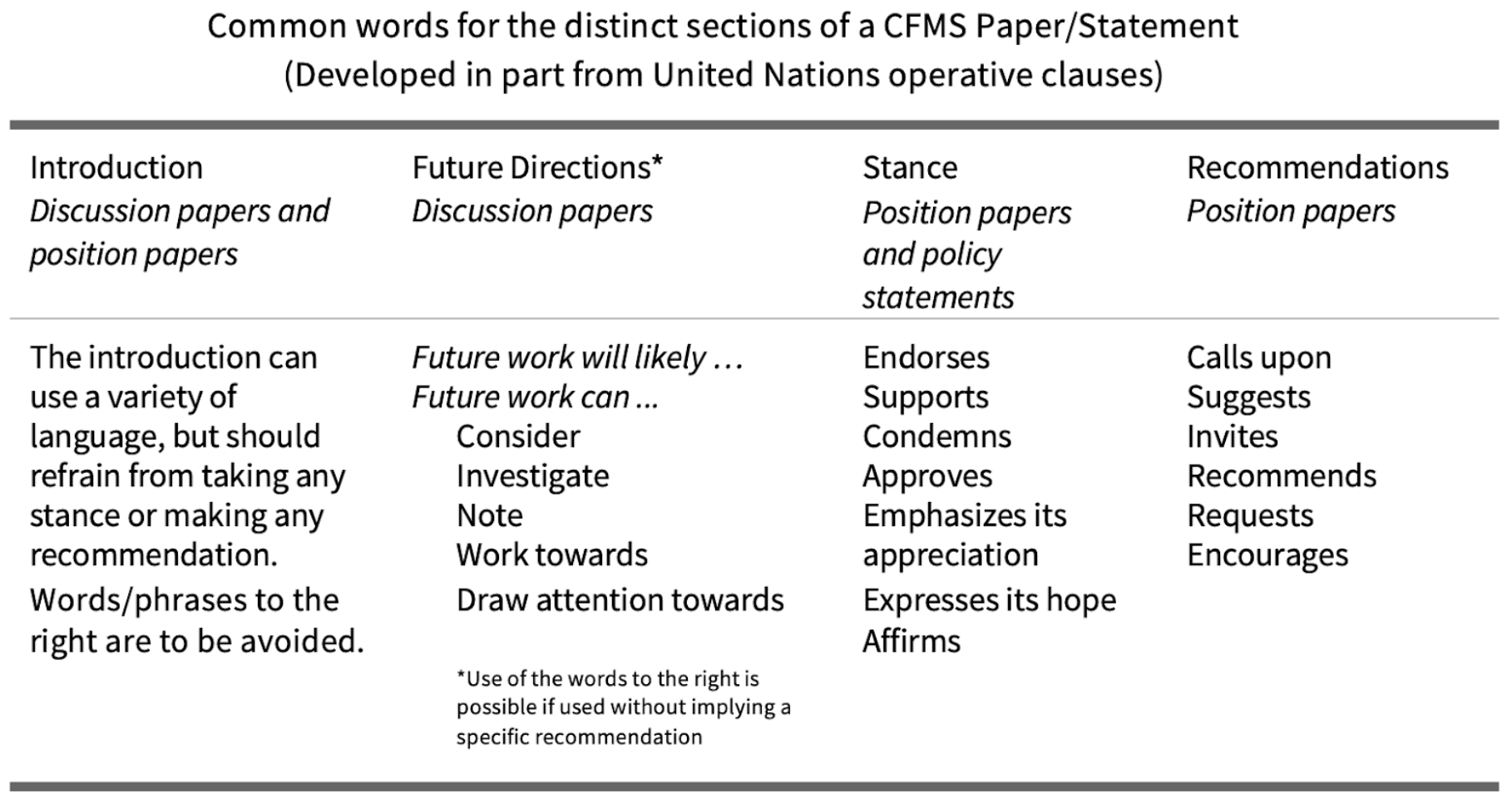 Figure 2. Examples of ways in which different types of guiding documents are meant to effectively communicate recommendations or stances on the issue being discussed.
Timelines for 2022-2023
Authors are invited to submit for either the CFMS Spring General Meeting (April 2023) or Annual General Meeting (September 2023) depending on the current stage of their project.
Please fill in this statement of intent and email to [email protected] if you are interested in submitting for the upcoming general meeting.
Recommended timeline for submission to CFMS Spring General Meeting 2023*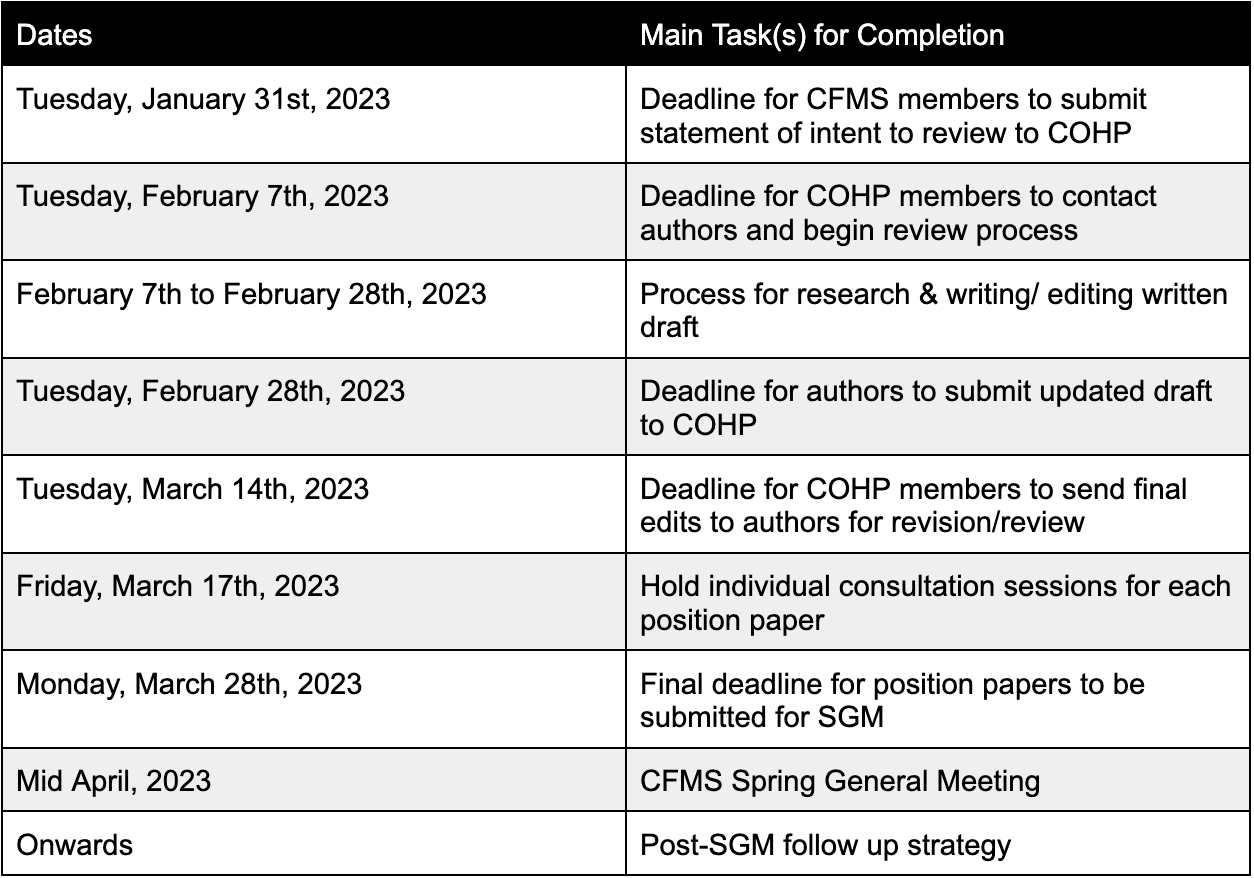 Recommended timeline for submission to CFMS Annual General Meeting 2023*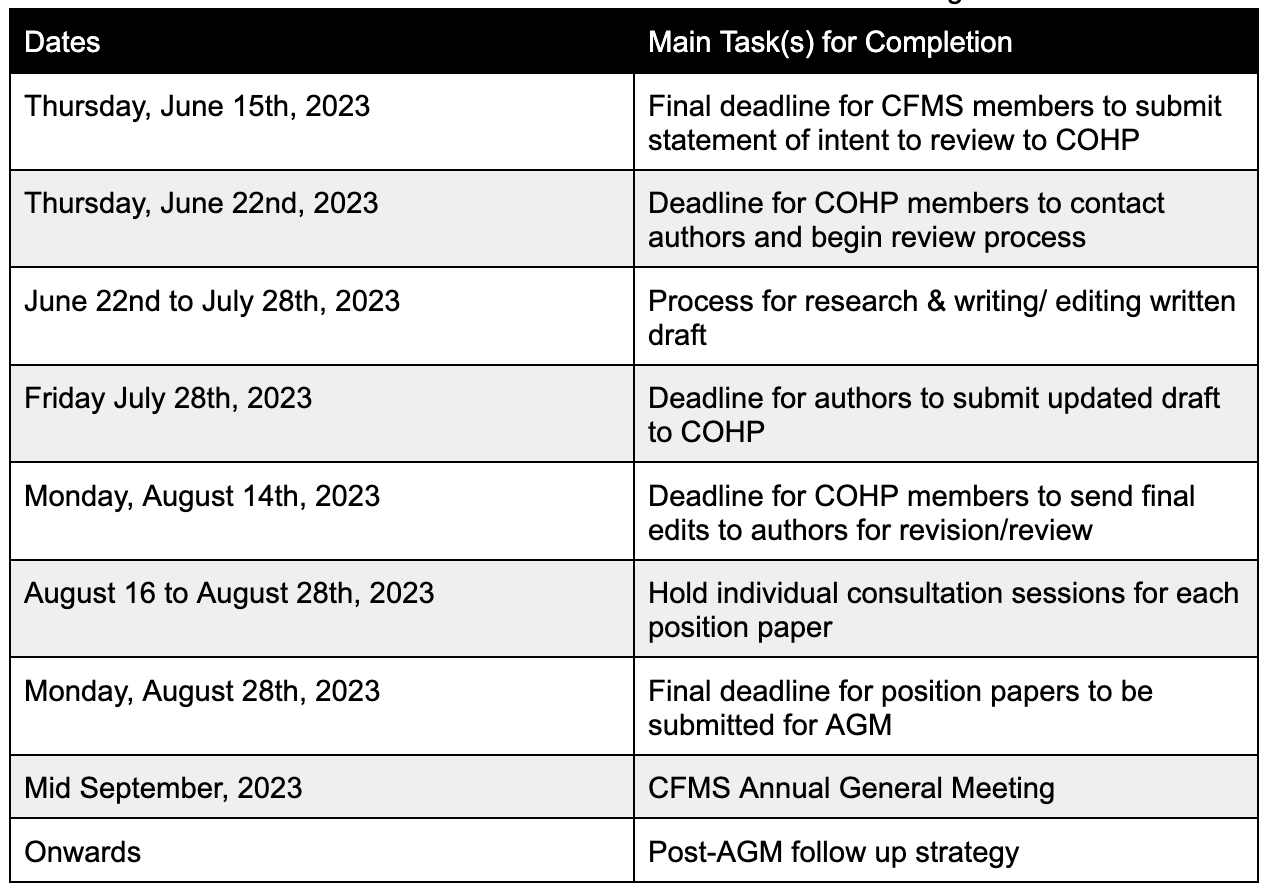 *Please note that the deadlines above are meant to help authors understand what the overall timeline may look like; these are not hard deadlines and do not limit authors from submitting outside of the dates listed above. We welcome anyone interested in presenting at SGM and AGM to submit their papers to us, and will work with all authors to best support their work in preparation for the meetings.
Main Contact
If students are currently interested in learning more about the work of the Committee or in submitting a guiding document (explained below), please contact the National Officer of Health Policy, at [email protected].