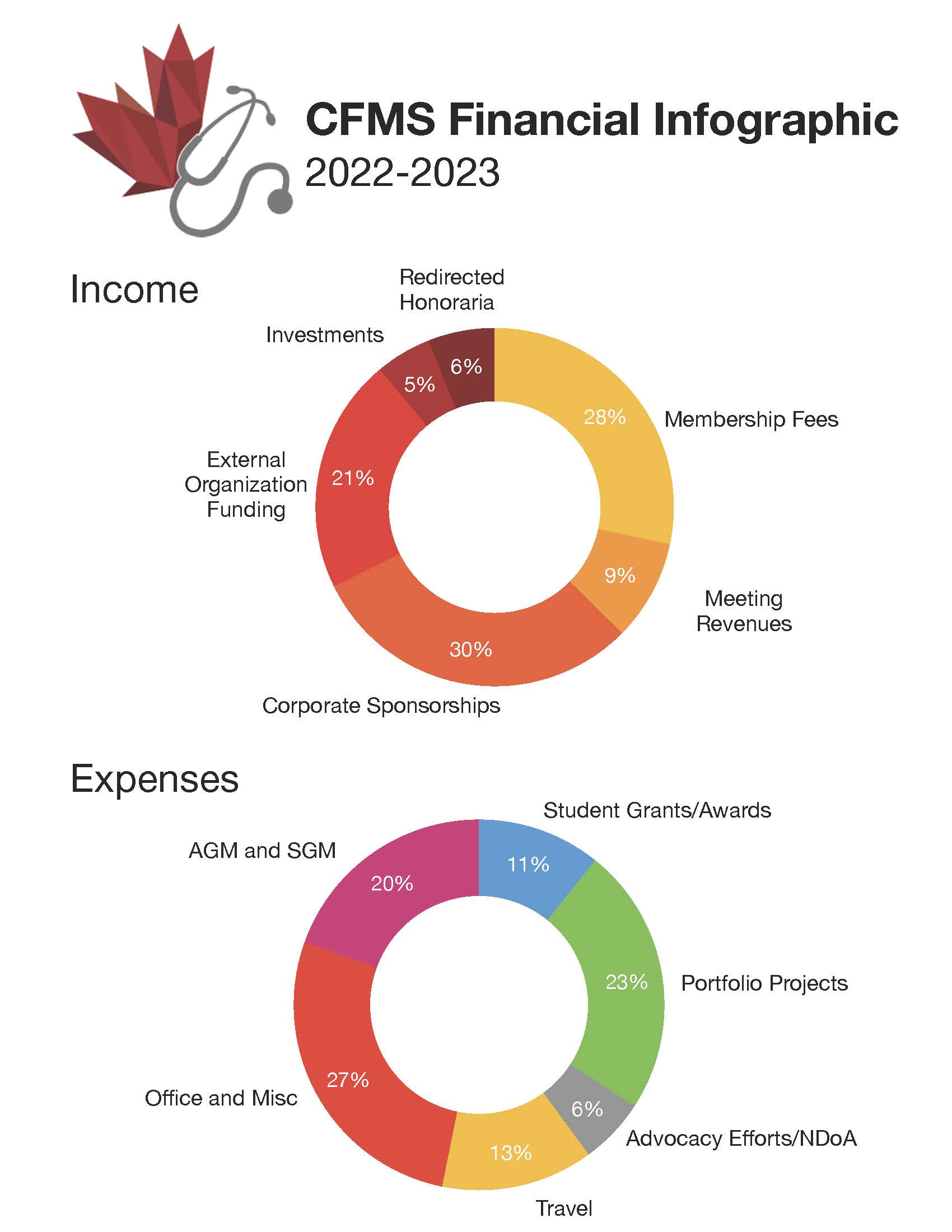 FAQ
Income
What is Redirected Honoraria?
Some members of the board (ex. the CFMS President) are paid an honoraria for attending meetings and contributing their time to external organizations. Instead of personally collecting the honoraria, these funds are instead "redirected" into the CFMS.
Does the CFMS make money off of meetings like AGM and SGM?
The CFMS makes revenue from the AGM/SGM but this money is used to fund the event itself including the room rental fees, catering, stationary, AV equipment and more. The AGM and SGM are both generously subsidized by our partners, who help keep the event affordable for students and MedSocs. The CFMS does not "make" money from AGM/SGM, rather they cost money.
Where does most of the CFMS money come from?
If you combine the generous support from our sponsors and our external organization funding (i.e. RDOC, CMA, etc), this represents 51% of our funding. The work we do would not be possible without their support!
Why does the CFMS have investments? What type of investments do we have?
Investments are a way for an organization to make money, from money. Unused spending or surplus is invested to ensuring our organization has a bright financial future. The organization has a mix of stocks and bonds; our bonds mature at regular periods which allows the VP finance the opportunity to examine the organizations financial health and make decisions based on the projected needs (i.e. withdraw money vs reinvest)
Expenses
What goes into Office and Misc Expenses
As a registered non-profit, the CFMS maintains a modest physical office space in Ottawa. That means we have expenses for all things that go with an office including rent, stationary, utilities, insurance and more. We also currently employ 1 full-time and 2 part-time non-medical student staff to help make the organization a success. These staff are critical for the day-to-day operations of the organization and for building enduring, lasting institutional memory.
What is AGM and SGM? Why do we have them?
The Annual General Meeting (AGM) and Spring General Meeting (SGM) are the two times that the CFMS membership gets together. As a non-profit, we are required to meet to have at least one general meeting per year. We believe that having two events allows for more organizational exposure, increases the connection with the membership and helps speed up initiatives (i.e. rather than waiting to make changes every 12 months). These meetings also provide an opportunity for networking and to provide programing that benefits Canadian medical students.
Why do we spend money on travel? Who is traveling and where are theygoing?
Travel expenses vary year to year, but it usually represents only 10-15% of our expenses. This includes travel such as the CFMS Presidents Tour (where he/she visits each medical school), travel for in-person board meetings, travel to AGM/SGM (for the board, staff, national officers and members who receive travel awards) and to meetings with external partners/sponsor organizations. A large number of meetings are still held virtually, but we also believe in the value of face-to-face interaction with students, the government, our sponsors and partners.
If you have any questions or concerns, please email the VP Finance at [email protected]