About CFMS
Our Mission
The Canadian Federation of Medical Students is the national voice of Canadian Medical Students. We connect, support and represent our membership as they learn to serve patients and society.
Our Vision
Tomorrow's physicians leading for health today.
Letter from the President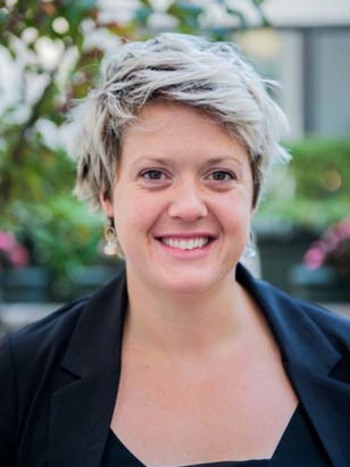 Stephanie Smith
CFMS President 2018 – 2019
Dear colleague,
Congratulations on your acceptance to medical school! Embarking on medical studies marks the start of an exciting journey towards becoming a physician. Medical education offers the opportunity to join a challenging profession built around excellence and service. With it, there is the opportunity to use your strengths, interests, and curiosity to engage and improve the health of others, and to be involved and bring positive changes to the local, national, and international communities.
The mission of the Canadian Federation of Medical Students (CFMS) is to connect, support, and represent our membership from 15 Canadian medical student societies as they learn to serve patients and society. Through our branches of representation, communication, and service, we are dedicated to promoting the interests and well being of students studying medicine in Canada. Through our board members, national officers, and representatives selected from across the country, we advocate for medical student interests at national medical organizations and to the federal government. Some of the organizations to which we send representatives include the Canadian Medical Association (CMA), the College of Family Physicians of Canada (CFPC), the Royal College of Physicians and Surgeons of Canada (RCPSC), the Resident Doctors of Canada (RDoC), the Canadian Resident Matching Service (CaRMS), and the Association of Faculties of Medicine of Canada (AFMC). We also organize an annual Day of Action on Parliament Hill in Ottawa where we meet with MPs and Senators to lobby for issues of relevance to medical students and that promote the health of all Canadians.
We have been working very hard at updating our website (www.cfms.org). I encourage you to sign-up on our website to ensure you have the most recent news from the CFMS and access discounts and exclusive offers available through our members-only section. In order to access the members-only section on the CFMS website you will require a code. Please contact your local CFMS representative for the sign-up code. The code will become active on July 4. We maintain communication with our members through our bi-annual meetings held in the Fall and the Spring, through our school representatives who will be making themselves known to you in the early weeks of your studies, through our bi-monthly Communiqué, and through our hard copy Annual Review publication.
The CFMS has a collaborative partnership with MD Financial Management (MD). MD's sole focus is to help Canadian physicians and their families achieve greater financial security and peace of mind. That focused commitment starts with supporting medical students and helping ensure they succeed as they begin their careers, whether it is providing advice on debt management, paying for medical school or preparing for residency and practice. Medical students can benefit from MD's specialized network of advisors who are dedicated to addressing the financial needs and goals of medical students, including advice about how to finance medical education while minimizing debt.
Some of the exclusive services we provide to our members include discounts on educational materials, flights and accommodations. Our online databases for residency interview feedback, is one of the services that you may find useful as you progress through your training. Frequently, we also advertise opportunities for funding for projects, various scholarships offered to medical students, and opportunities to attend our meetings. Also available are international opportunities and exchanges through our vibrant Global Health Program which has as one of its mandates to connect with the International Federation of Medical Students' Associations (IFMSA).
I am thrilled to welcome you into the CFMS as you begin your medical education! As a new medical student at one of our 15 CFMS-member schools, you are automatically a member of the CFMS. This is your organization and we are here to serve you and to help make your experience in medical school exciting, rewarding, and successful. There are a number of ways to get involved in the CFMS, including attending our bi-annual meetings, joining a committee, applying to be a national officer, or running for one of our board positions – stay tuned to your CFMS Communiqué this Fall to learn more about how to get involved. Be sure to speak to the CFMS representative at your school for more information! In addition to your representative, the CFMS board members are also available to listen to your ideas and your thoughts and transform them into action. Please feel free to contact me or any other members of the board at any time - our contact information can be found on the CFMS website.
On behalf of the entire CFMS board and all the medical students across Canada, congratulations and enjoy the journey on which you are about to embark.
Sincerely,
Stephanie Smith
CFMS President, 2018– 2019