Social Media
How should I approach social media?
Social media can seem overwhelming! There are many mediums through which to communicate your idea and it is difficult to know where to start. Each organization or advocacy cause will require different tools and you will have to tailor your approach to best achieve your goals. In the following section, we will provide you with a general overview of how to best use social media.

General Approach
Plan your reach
Measure your reach
Enhance your reach

Plan Your Reach
Set objectives
Identify the audience

What types of people are you trying to target with your media? Parents? Doctors? Young people?
Knowing your audience before you begin will make it easier to develop a strategy and market your material to have the greatest effect.

Select the platform
Gather resources and materials - ahead of time!

Articles

Easy to stockpile a large number of articles ahead of time to be posted when you may be lacking in material on a given day.

Photos

It's helpful to take a large number of photos as the beginning of an event (e.g. Lobby Day) but then slowly release them to your followers throughout the day.

Videos

Videos receive nine times the viewership of a regular post!

Put someone or a team in charge

Having too many people in charge of social media can make it challenging to streamline your message. Over time, your social media thread will develop a "tone" or "voice" - adding too many people to the mix can make it more challenging to keep this "voice" consistent.
If you choose to use many people to update, be sure to have a set plan

How often will each of you post? What types of materials? Do you need to have consensus before posting?
What platform should I be using?
Twitter
What is Twitter?
Twitter is a social media website (www.twitter.com) where users can interact with each other in messages limited to 140 characters in duration. A message on Twitter is referred to as a "Tweet". There is also a private messaging system associated with Twitter where users can send "Direct Messages" to one another.

How does Twitter work?
Twitter handles
A Twitter handle is a user's username. It is represented by the symbol @ (@username). To address a Tweet to someone, simply include their @username at some point in your Tweet.

Hashtags
A hashtag (#) is a method of tagging or identifying Tweets that are related to a specific subject. For example, Tweets relating to a specific issue can all be written with the same #hashtag. This makes it easy to search for Tweets related to a certain topic or event.
Account Settings: Private vs. Public
There are several things to consider when deciding whether to set the privacy setting of your profile to private or public. When you sign up for your Twitter account, you can set your Tweets to be protected or unprotected. If your Tweets are protected, this means that you must approve each single person who requests to follow you on Twitter - only approved followers can see your Tweets. In terms of using Twitter for advocacy, if you have a protected account and are Tweeting individuals who are not following you, they will not be able to see your Tweets.
Social Media Professionalism
Find under "CFMS Guide to Social Media and Professionalism (April 2013) at http://www.cfms.org/what-we-do/advocacy/position-papers.html
Advantages of using Twitter to contact public figures
Twitter is a platform for self-promotion and public and political figures invest a lot of time in engaging potential supporters. Promoting their image through a well-maintained profile enables a better relationship with the public and thus more successful campaigns/endeavors. As a result, most public figures are interested in your thoughts and are likely to respond via Twitter.
How can Twitter be used for advocacy?
Targeted use
Twitter is a cost-free way to share information to a wide variety of people and obtain feedback in real time. It is free to join and can be used as a platform to spread information about specific causes or events of interest to you. Others who are also interested in the same events and causes can connect with you directly using your handle (@username) or can support your cause by using event hashtags.
Hashtags
As previously outlined, a Hashtag (#) is a way to connect with everyone interested in your event or cause. Simply add the name of the event or cause to the hashtag, and include it in your tweets. Everyone interested in your cause will be able to use this hashtag to see the news. For example, those conducting social media for the CFMS Annual General Meeting in Fall 2014 could use the hashtag #cfms2014. People on Twitter could connect with any news surrounding the conference by searching for the hashtag #cfms2014
Some examples of event-specific hashtags include:
CFMS Lobby Day in February 2014: #cfmslobby2014
OMSA Lobby Day 2013: #omsalobby
IFMSA August Meeting 2013: #am2013, #IFMSAReform
Examples of topic-specific hastags include:
Medical Education: #meded
Health: #globalhealth, #cdnhealth, #healthmatters
Canadian Poltics: #cdnpoli

Good tweet-bad tweet examples Freedom of speech and expression is a powerful staple on Twitter; however, make sure all tweets treat readers with respect, and keep conversation honest, civil, objective, and polite.
| | |
| --- | --- |
| Good Tweet | Bad Tweet |
| @CMA_Docs states Can Gov should invest in #healthcare nationalpost.ca/cma_statement - what do you think? #cdnpoli #healthmatters | The CMA states that the government should invest more in health care. |
| @CFMSFEMC Great chat about #fnim health with @NunavutMP today at #cfmslobby2014 pic.twitter.meandmyMP | Having a great time on parliament lobbying MPs about health equity up north. |
| @PMHarper There are more skin cancer cases due to indoor tanning than there are lung cancer due to smoking #takeournotanningpledge youtube.notanningvid | I call on PM Harper to ban tanning in Canada. |
Measure Your Reach
You are doing everything right - tweeting every day, posting original videos, retweeting messages from important allies - but how do you know if you are getting anywhere with your advocacy? The best way to determine if you are creating change is to measure it.
Social media management systems
TweetDeck
TweetDeck gives the Twitter experience more flexibility by letting you view multiple timelines in one easy interface. It includes a host of features to help advanced users get the most of Twitter: manage multiple Twitter accounts, schedule Tweets for posting in the future, build custom timelines, and more.

HootSuite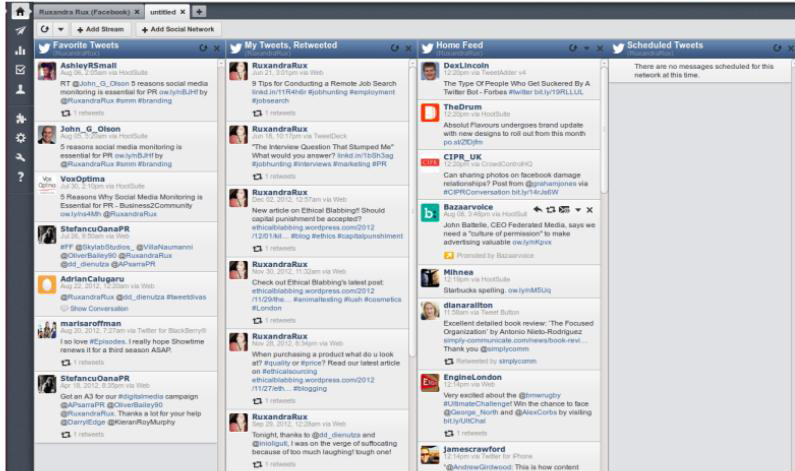 HootSuite is a social media management system for businesses and organizations to collaboratively execute campaigns across multiple social networks from one secure, web-based dashboard. Launch marketing campaigns, identify and grow audiences, and distribute targeted messages using HootSuite's unique social media dashboard. Streamline team workflow with scheduling and assignment tools and reach audiences with geo-targeting functionality. Invite multiple collaborators to manage social networks securely, plus provide custom reports using the comprehensive social analytics tools for measurement.

HootSuite message management simplifies the ways you listen and publish updates to your social networks. By hosting all of your social networks and pages in one dashboard, you can monitor for brand mentions, schedule campaign messaging and effectively respond to your audiences in real-time.

Key social network integrations include Facebook, Twitter, LinkedIn, and new Google+ Pages, plus a suite of social content apps for YouTube, Flickr, Tumblr and more.

Klout
Klout measures influence based on the ability to drive action across the social web. Any person can connect their social network accounts and Klout will generate a score on a scale of 1-100 that represents their ability to engage other people and inspire social actions. Klout enables everyone to gain insights that help them better understand how they influence others. Klout also provides people with opportunities to shape and be recognized for their influence.

Social Mention
Social Mention is a social media search and analysis platform that aggregates user generated content from across the universe into a single stream of information. It allows you to easily track and measure what people are saying about you, your company, a new product, or any topic across the web's social media landscape in real-time. Social Mention monitors 100+ social media properties directly including: Twitter, Facebook, FriendFeed, YouTube, Digg, Google, etc.

Enhance Your Reach
You made a plan, began sharing your message on a social media platform, and you are receiving valuable feedback form a social media management system. How do you use this information to make your use of social media even better?
Expand your scope

What other issues have similar goals to your own?

Create more original material

Try making your own video.
Submit letters to the editor and tweet them from the original news source

Hone in on your target audience

Where are they on social media? What feeds to the frequent?
What issues are they talking about? What #hashtags are they using?
Who are the change-makers for your issue? Politicians? Physicians?
Politwitter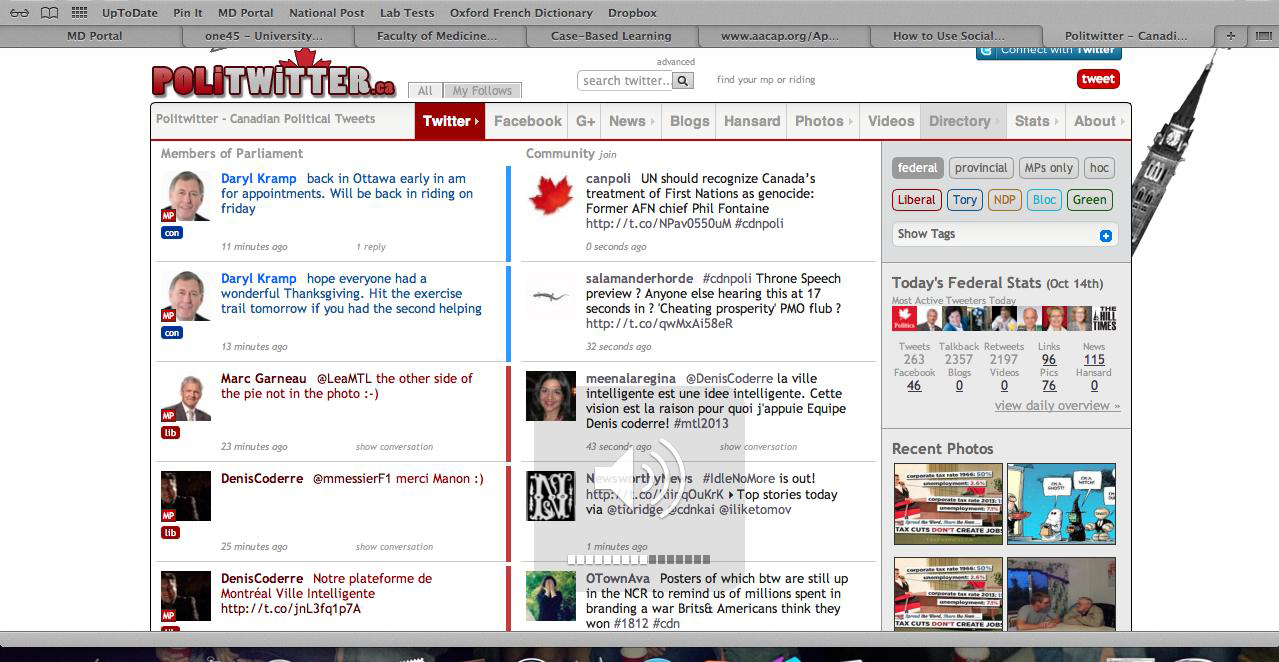 poliTwitter.ca is a new way to utilize Twitter to stay on top of the latest in Canadian politics. From one easy location, you track what your politicians are saying on social media and what regular Canadians have to say about current politics.

poliTwitter not only tracks MPs & Canadian politics on Twitter but also Facebook, Youtube, flickr, blogs and hansard from Parliament.

poliTwitter does the searching for you maintaining a detailed list of politicians on Twitter and political hashtags. You can view tweets narrowed down by partisan party affiliation, province, MPs and more.

poliTwitter is a non-partisan service that strives to connect elected MPs & MLAs with the Canadian people.

Take Home Messages
Be genuine

Let your personality show.
Be transparent in all that you post.
Speak as an individual, to individuals - there are people behind every post.

Stay focused: Stay on message - even when others are trying to change the conversation.
Be reliable: Commit the time
Get social: Social media is a conversation, not a monologue!
Twitter Accounts to Follow
Associations
| | | |
| --- | --- | --- |
| @CFMSFEMC | @FMEQ | @Royal_College |
| @CMA_Members | @CHIH_ICIS | @MedCouncilCan |
| @CCGHR | @canadanurses | @AAMCtoday |
| @SMA_docs | @OMSA_Executive | @AFMC_e |
| @npscanada | @PHAC_GC | @CAIRpresident |
| @CaRMS_CA | | |
Medical Schools
| | | |
| --- | --- | --- |
| @DalMedSchool | @MUNMed | @McGillMed |
| @SchulichMedDent | @uOttawaMed | @uoftmedicine |
| @thenosm | @MacHealthSci | @QueensUGME |
| @um_medicine | @usaskUGME | @UAlberta_FoMD |
| @UofCMedicine | @UBCmedicine | @Medusherbrooke |
| @FacMedUL | @facmedudem | @AIME_uOttawa |
| @UBCIMP | @UofAMSA | |
Individuals
| | | |
| --- | --- | --- |
| @Dr_ChrisSimpson | @picardonhealth | @drfrancescutti |
| @tepperjd | @GailYentaBeck | @NightShiftMD |
| @larsendarren | @MarcGarneau | @KellieLeitch |
| @michaelshapcott | @kathylawrence1 | @MinRonaAmbrose |

News Outlets
| | | |
| --- | --- | --- |
| @CdnPress | @nationalpost | @globeandmail |
| @CBCNews | @CTVNews | @TorontoStar |
| @CanUniPress | @JAMA | @CMAJ_News |

Resources (and References)
American Association of University Women: How to Use Social Media for Advocacy
https://www.aauw.org/resources/policy/advocacy-toolkit/work-with-media/

Australian Medical Association with the New Zealand Medical Students' Association and the Australian Medical Student Association: Social Media and the Medical Profession
https://ama.com.au/social-media-and-medical-profession

CFMS Guide to Social Media and Professionalism
http://www.cfms.org/attachments/article/995/CFMS%20Guide%20to%20Social%20Media%20Professionalism.pdf

CMA: Social Media and Canadian Physicians
http://www.cma.ca/socialmedia

National Alliance on Mental Illness: Using Social Networking for Advocacy
https://www.nami.org/Content/NavigationMenu/State_Advocacy/Tools_for_Leaders/Media_Tool_Kit_Using_Social_Networking_Tools.htm

Social Health Institute
http://www.socialhealthinstitute.com